Beyond 'Nova Nation: Playoff rankings, 'Superbad' style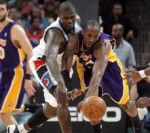 For the past 82 games, each NBA team has been scratching and clawing its way into playoff position. Finally, April is here, and each player is now given the chance to make this either the best season of their lives or one that is "Superbad." With a little help from the movie, here is a breakdown of this year's participants in the NBA playoffs.
ATLANTA HAWKS (16)
"You know, home ec. is a joke. Everyone takes it to just get an A."
The joke of the NBA this season is the bottom of the Eastern Conference. The Hawks have taken advantage of that joke by making the playoffs with a losing record. Atlanta has a lot of young talent, and just being in the postseason is an accomplishment, but the Hawks will find themselves gone very soon.
PHILADELPHIA 76ERS (15)
"I gotta catch a glimpse of these warlocks. Let's make a move."
The 76ers could be the most unexpected participant in the playoffs this season. As a result, a lot of the Philadelphia faithful know very little about this team except that they have Andre Iguodala. However, with a matchup against the Pistons, fans should tune in quickly before the 76ers are gone.
TORONTO RAPTORS (14)
"Muhammed is the most commonly used name on Earth. Read a book for once."
This quote could only apply to the Raptors, who are composed of Chris Bosh and several foreign-born players that the casual NBA fan knows nothing about. Don't worry though, Toronto's poor play down the stretch means there is no reason to get to know these guys for more than a week.
DENVER NUGGETS (13)
"We could be that mistake!"
Last year we saw the No.8 seeded Golden State Warriors became the nation's media darlings as they knocked off the No.1 seed Dallas Mavericks. Denver would love to make it two years in a row, but there's a major difference between going against Dirk Nowitzki and a cold-blooded Kobe Bryant.
WASHINGTON WIZARDS (12)
"And take off that vest. You look like Aladdin."
This quote is more a statement on their terrible shiny gold jerseys that belong in… well, "Aladdin." As for the team itself, it is the third year in a row that the Wizards take on the Cavaliers in the first round, and while everyone in Washington is confident that they will win, a third-straight series loss seems more likely.
DALLAS MAVERICKS (11)
"The guy's either going to think 'here's another guy with a fake ID,' or 'here's McLovin, 25-year-old Hawaiian organ donor.' Okay? So what's it gonna be?"
Which Mavericks team will show up in the postseason? Will it be last year's No.1 seed that only got better with the addition of Jason Kidd, or will it be the under-achieving No.7 seed of the Western Conference. If it's the latter, Avery Johnson may need to find a new job soon.
CLEVELAND CAVALIERS (10)
"I'm over here in my unit, isolated and alone, eating my terrible-tasting food, and I have to look over at that."
Poor LeBron. While other teams picked up Kidd, Pau Gasol and Shaquille O'Neal, the Cavaliers acquired an over-the-hill Ben Wallace and Wally Szczerbiak. It's obvious that LeBron is frustrated with the front office, and that frustration will grow with an early playoff loss this season.
HOUSTON ROCKETS (9)
"I'm not too worried about it, really. I wouldn't worry about it. Don't worry about it. I'm not worried at all."
The Rockets keep saying the right things about how they will fare without Yao Ming, but the team must realize that it will be a long shot for them to even make it out of the first round. What Houston did during the season cannot be forgotten, but another first-round exit for Tracy McGrady will also not go forgotten.
ORLANDO MAGIC (8)
"He's a freak. He's the fastest kid alive."
The nation got introduced to Dwight Howard during his freakish performance in the Slam Dunk Contest, but that performance will only prove to be act one in what should be a legendary career. He is the most dominant big man in the East, and because of that the Magic could be a dark horse to make the NBA Finals.
UTAH JAZZ (7)
"Don't tell Fogell about the party, man …"
"Gangstaaaaaaaaaaasss … what's up guys?"
The Utah Jazz is a tremendously talented team, but out of all the participants out West, any NBA fan living outside Utah would be crushed to see the Jazz represent the NBA Finals. Many forget this team reached the Western Conference Finals last season, and Deron Williams and Carlos Boozer would be happy to disappoint the American public.
SAN ANTONIO SPURS (6)
"I had such bad acne last year that I've pretty much become an expert on the stuff …"
The Spurs are the experts on boring basketball, and while it is successful, no one is too interested in watching it. San Antonio is one of the best teams in the NBA again, but because of a tough first-round matchup, they will leave the playoffs early.
NEW ORLEANS HORNETS (5)
"He is the sweetest guy. Have you ever looked into his eyes? It was like the first time I heard The Beatles."
It is impossible not to like the New Orleans Hornets. They are a great story rising from a city full of tragedy. Even better, they have one of the new faces of the NBA – possible MVP Chris Paul. The foundation is set for a long run of success, and while it could feature a title, it won't be in 2008.
PHOENIX SUNS (4)
"There is a very good reason for why my fake ID says I'm 25 and not 21. Everyday hundreds of kids go to the liquor store with fake IDs that say they're 21. Just how many 21-year-olds are there in this town? It's called strategy."
This sounds exactly like Steve Kerr after his trade for O'Neal. The trade is graded by Phoenix's playoff performance. Will beating the Spurs on the way to Western Conference Finals validate the move, or can this only be successful with a ring?
BOSTON CELTICS (3)
"Wait, you changed your name to … McLovin?"
The story has been repeated over and over, but if you have not heard it, the Celtics were very bad last year, and after trading for Ray Allen and Kevin Garnett, they are now very good. However, the Detroit Pistons are also a very good team, and their equal talent and greater experience will prevent Boston from returning to the NBA Finals.
LOS ANGELES LAKERS (2)
"I just wanna go to the rooftops and scream, 'I love my best friend, Evan.' "
This probably represents how Bryant feels about his newest superstar teammate Gasol. Since the trade, the Lakers have risen to the top of the Western Conference and have become the team to beat at the end of the season. An opposing team must have stellar defense and a balanced offense to slow down Bryant and Gasol.
DETROIT PISTONS (1)
"I just wish you would take those off."
It is painful to watch, and the NBA fan is tired of it, but the fact is that the Pistons play a smarter, yet uglier, game than any team in the league. It is hard to find any team that has as much playoff experience and talent on the roster as the Pistons, and before age begins to catch up with them, Detroit will celebrate another title in 2008.