Balloon Day celebrates 35th anniversary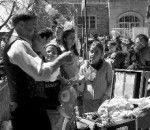 Balloon Day's 35th anniversary was celebrated on Tuesday as University students, faculty and staff came out, along with 90 students from La Salle Academy, the Don Guanella School and the Nelmark School, to raise funds for Campus Ministry's R.U.I.B.A.L. program.
On-campus organizations came out to support Balloon Day by having their own booths. In total, there were about 35 booths at the event.
This year's event featured a dunk tank, henna tattoo and face painting booths and a barbecue with food donated by Dining Services. Students, faculty and staff could purchase a ticket for $5 that gave them to unlimited access to all the booths and stations.
In the past, there was a ticket system where each booth required a specific number of tickets, but this year it was simplified through the unlimited access ticket.
There was also a raffle and a Peace-a-Pizza event in the past week that raised money for the same cause.
This year the proceeds from Balloon Day went to Campus Ministry's R.U.I.B.A.L. The program, which is designed for freshman volunteers, allows students to go to schools, such as La Salle Academy, and volunteer with the elementary-aged students. Scholarships will be created for students at the R.U.I.B.A.L. schools.
Last year about $3,000 was raised for Habitat for Humanity. This year R.U.I.B.A.L. was selected as the recipient of the proceeds in an effort to refocus Balloon Day on a program operated through Campus Ministry.
"In the past, Balloon Day was run through Campus Ministry but not tied to it," said Jaclyn McNamee, student coordinator of Balloon Day. "We wanted it to be more of a day where everyone in Campus Ministry was involved, so we picked an organization that Campus Ministry works with."
Students who wanted to participate in Balloon Day could volunteer as a "hugger." This required them to go around to all the booths with one of the 90 students from the participating schools.
"Specifically, we're trying to reach out to freshmen," McNamee said. "We want to publicize what Campus Ministry does to them."
Balloon Day was started in 1973 by Rev. Ray Jackson, O.S.A., in an effort to promote community spirit and raise money for a local charity. Every year since then, Campus Ministry attempts celebrates the day by enlivening the campus with bright balloon arches and festivities, while bringing students from different schools and persons with disabilities to campus for the event.