Merry Christmas week brings holiday spirit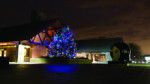 To help students get in the Christmas spirit, the Campus Activities Team held "Merry Christmas Villanova Week" during the first week of December.
With a week full of Christmas activities and events, students had plenty of opportunities to share the cheer and get ready for the holidays.
The week began with the annual tree lighting ceremony and reception on Dec. 1.
However, the weather did not cooperate. The festivities went on despite the rain, although the ceremony itself was moved inside.
"People really love the tree lighting tradition," CAT Special Events Committee Co-Director Samantha Grimaldi said. Not only is the Christmas tree outside of Connelly Center lit, but the lights decorating the rest of campus are shining bright as well.
The following night, CAT hosted one of the week's most popular activities: gingerbread house building in the IK.
"You wouldn't think this would be such a popular event, but it is," Grimaldi said. "This year, about 250 students came."
Gingerbread house building kits were provided to all participants, though individuality was encouraged.
"One group tried to build the church here on campus," Grimaldi said. "It collapsed halfway through, but it still looked pretty cool."
CAT also scored another hit on Dec. 3 by hosting musician Matt Roach performing Christmas music in the Belle Air Terrace.
Staples of the holiday season are classic Christmas movies, and CAT had that covered, as well. On Dec. 4 in the Connelly Cinema "A Charlie Brown Christmas" and "A Muppets Christmas Carol" were shown.
Both animated classics were chosen by the CAT Film Committee based on the wide appeal and familiarity of the movies. Also during this time, there was a Holiday Bazaar set up in the Villanova Room.
Hosting many of the vendors who sell to students in and around Connelly Center, the bazaar provided students with an opportunity to do a little of their Christmas shopping away from the hectic atmosphere of malls or outlets.
Also part of "Merry Christmas Villanova Week" was the Yuletide Ball, held in the Villanova Room on Dec. 5. This is the second year that CAT has hosted the Yuletide Ball. Aside from having cheesecake and dancing, there was also a holiday card-maker at the ball.
"He had a bunch of samples for Christmas and birthday cards set up on his table and you picked one, and then he'd make the person on the card kind of look like you," Grimaldi's co-director Noelle Sciulli said. "It's a cool, personalized card to send."
Wrapping up the week was CAT's trip to New York City on Saturday.
The bus left early Saturday morning and dropped students off in the city, leaving them free to wander about. Many students did some Christmas shopping, went ice-skating and enjoyed the Christmas tree at Rockefeller Center.