Diwali festival celebrates diversity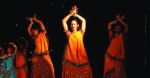 The South Asian Multicultural Organized Students Association held the annual Diwali festival in the Jake Nevin Field House on Nov. 22 beginning at 6:30 p.m.
This was the first year the celebration was held in Jake Nevin in order to accommodate larger crowds.
Approximatly 1,200 students, family and community members attended, filling the gym to capacity.
The theme of the completely student-run festival was "Mela," which translates to "carnival." The space was transformed into an East Asian-style gala full of cultural booths and ethnic fanfare.
Colorful balls and linens hung from the ceiling.
The smell of Indian cuisine added to the carnival atmosphere.
Villanova students brought the Mela festivities to life, from the colorful set created by the decorations committee to the student acts.
The making of the 2008 show started after last year's 2007 Diwali event, "A Night in Bollywood."
The process the students follow is an intricate one that begins with students brainstorming different themes and ideas that they then put into action to create a realistic cultural affair, as well as ways for fundraise.
Junior SAMOSA Executive Board member Megha Kulshreshtha said the planning and organization of the event included booking the space and orchestrating all of the acts.
"It is one of the most challenging events but by far the most rewarding," Kulshreshtha said.
Many SAMOSA members and Diwali participants emphasized the importance of the cultural awareness that was highlighted over the course of the event.
Numerous cultures were brought together in the performances.
"It is a unifying moment where you can embrace culture and broadens your horizons," Kulshreshtha said. "Especially on the Villanova campus, Diwali speaks to the acceptance and intrigue of diversity."
This sentiment was highlighted in the crowds present at the Mela festivities who were there to perform, serve, volunteer, watch and be a part of the cultural celebration.
Performances featured a wide range of talents from various organizations.
Featured groups included Rampage, the Irani Student Association, Filipino Tinikling dancers, along with the Haveners and dances by representatives from SAMOSA. Solo acts also performed.
An intermission allowed for a short break.
Upstairs in the gym, volunteers served the home-cooked meals donated by SAMOSA family and friends.
The meals consisted of a variety of traditional South Asian foods.
Kathleen Vermillion contributed addtional reporting to this article.