Villanova welcomes 'Glass Castle' author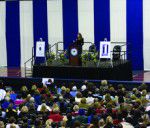 Jeannette Walls, author of the best-selling book "The Glass Castle," visited the University last Monday as a part of the One Book Villanova program.
The One Book festivities began at 3 p.m., when Walls participated in a book signing in Falvey Memorial Library, which was open to the public.
The University hosted the One Book Community Dinner at 6 p.m. in the Dougherty Dining Hall.
The dinner event was open to the public for $7.95. The culminating event, "An Evening with Jeannette Walls," began at 8 p.m. in the Pavilion on Monday.
"The Glass Castle" is a memoir about Walls' dysfunctional but undeniably spirited family.
Her mother is a free spirit who challenged the notion of domesticity and resented her responsibility of raising a family.
Her eccentric father, when sober, taught his children physics, geology and powerful life lessons. But when he drank, he was destructive.
The story is both heartbreaking and hilarious as Walls and her siblings went without food and clothing yet were encouraged to create art and dream of glass castles in the desert.
Walls and her siblings learned to fend for themselves, and eventually found their way to New York City.
Their parents followed them, but they chose to be homeless even as their children prospered.
It is a book that highlights Walls' heartbreaking childhood dominated by poverty and near starvation, but also the unconditional love of an eccentric but loyal family.
"The Glass Castle" challenges readers with issues including alcoholism, poverty, starvation, neglect, homelessness, love and loyalty.
The large lecture was the culminating event of the day.
The evening began with a performance by local bluegrass ensemble Wissahickon Chicken Shack.
As attendees entered the Pavilion, they were given the opportunity to write down and submit a question for the author.
A welcome was given by Terry Nance, assistant vice president of the Center for Multicultural Affairs.
She briefly spoke about the process of choosing "The Glass Castle" as this year's One Book selection.
"When we looked at "The Glass Castle" we were looking at the intertwining of very important issues such as homelessness and poverty," Nance said.
Walls was introduced by Jennifer Kissko, an English professor at the University.
"We are just so grateful that she decided to share her story," Kissko said.
Walls opened by explaining why she wrote her memoir.
"I am just a girl with a story, but the telling of that story has changed my life," she said. "For a long time my story was a source of shame for me."
After hiding her past for years, Walls feared the worst if she were to tell her story.
But she took her mother's advice to tell the truth and sat down to write her story.
"It occurred to me that if I could make one person understand what it's like to be ashamed of how poor you are, to worry about where your next meal is going to come from," she said. "I decided whatever humiliation I was about to go through would be worth it. That's why we share our stories. That's what this One Book Villanova program is all about. We might face different challenges but basically, behind it all, we are so much alike."
Walls said that her favorite memory from her entire childhood was one described in the book.
"I was five years old and we had no money for Christmas presents, so my father took us out into the desert night and let us pick whatever star we wanted" she said. "I treasure that gift and I treasure that story."
Despite her difficult childhood, Walls is able to look back with a positive attitude toward her upbringing and her family. She feels that she was always loved.
She also acknowledged the question of whether or not she sees her parents as abusive or even evil.
"It's not a matter of forgiveness, but a matter of acceptance," she said. "I believe my parents had certain gifts and I chose to focus on that."
Despite her perseverance, Walls is humble about her achievements.
"There's nothing extraordinary about me except that I faced some extraordinary challenges and overcame them," she said. "I can guarantee that each of you has resources inside that you are completely unaware of."
Walls said that the ability to go into a grocery store and buy whatever she wants or turn up the heat in her house still astonishes her.
"But I also know I can survive without these things. I will never take these luxuries for granted," she said.
Walls lives in Virginia and is married to writer John Taylor.
In addition to her columns for MSNBC, Walls has also written for New York Magazine, Esquire and USA Today.
She has also appeared on CNN, "The Today Show," "Primetime Live," "Good Morning America," "Larry King Live" and "Oprah".
"The Glass Castle" has been a New York Times best-seller for more than two years and has sold more than two million copies. Currently, Paramount is in the process of making the story into a movie.
Its numerous awards include the 2005 Elle Reader's Prize, the 2006 American Library Association Alex Award, the Christopher Award and the Books for Better Living Award.
One Book Villanova was initiated in 2005 with a community reading of "The Kite Runner" by Khalid Hosseini.
In 2006, "Blood Done Sign My Name" by Timothy Tyson was the featured selection, followed last year by "Left to Tell" by Immaculée Ilibagiza.