BLACK: Lessons from Father Tom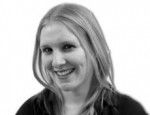 I met Rev. Thomas Martin, O.S.A. sometime during the first week of classes in Aug. of 2005. I was a flustered freshman wandering around the St. Augustine Center for Liberal Arts (SAC, for short), looking for my just-assigned work-study assignment: the Augustinian Institute.
I had no idea what to expect when I finally arrived at the right place in the building. Would I be bored to tears by my job or worked to the bone? Would I like my boss? Would my boss like me? Nothing was certain as I walked through the door into that modest two-room office.
What was certain, however, was the warm, inviting smile on Father Tom's face when I saw him for the first time – a small gesture that put my jittery self at ease, and one that I would remember for a long time.
From that day on, I have been the work-study student for Father Tom, the director of the Institute and Anna Misticoni, the coordinator. Over the years, my position has consisted of doing various odd jobs for Father Tom. A typical work day would include making copies, delivering papers to and from the Institute (now located in Old Falvey), or running errands – any small office task that needed to be done.
While having a work-study position hasn't been a particularly draining job, it was certainly much more enjoyable having a friendly face around like Father Tom's. His liveliness and sense of humor were a comforting presence in the office; his upbeat demeanor and the occasional joke or two made the time pass by fairly quickly.
Additionally, I appreciated how Father Tom took a personal interest in me. He frequently asked how my frisbee team was doing, or if I had an article coming up in the newspaper. We made conversation about little things, from the weather and sports teams to Villanova happenings and current events. For three years, daily life at the Augustinian Institute went about in this way.
Sadly though, Father Tom learned that he had Stage IV colon cancer last summer. He bravely fought his illness up until last month, when he entered hospice care and passed away shortly afterwards on Feb. 20.
While Father Tom and I weren't incredibly close, his death, nevertheless, hit me harder than I expected. How could it be possible that I would never again see him strolling into the office, coffee in hand, with a cheerful "Buongiorno"?
It was those simple, yet meaningful acts, of Father Tom's that affected me in such a positive manner. While his appearances at the Institute became less and less frequent over the course of the fall semester, his warmth and kindness never ceased to make themselves known in the office. His body may have been weakening, but his spirit was steadfast, remaining as strong as ever.
I admired this noble yet humble person in his life, and still do after his passing. Remarkably, Father Tom possessed a quiet, but powerful, strength throughout his life, even in the face of unbelievably difficult adversity. It is a quality that should not only be respected, but modeled after, as well.
I'd always known that Father Tom must have touched many other lives other than my own, but being present at his Funeral Mass at the St. Thomas of Villanova Church confirmed my assumption. There's an old saying that goes something like this: "If you need to know the measure of a man, you simply count his friends." Needless to say, the church was packed that night.
——————–
Brigid Black is a senior English and French double- major from Brooklyn, N.Y. She can be reached at [email protected].