CAT signs Gym Class Heroes for NovaFest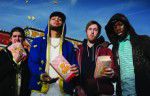 Gym Class Heroes will be the main act at this year's NovaFest concert on April 25. The weekend will be circus-themed, according to Ryan DaPonte, the NovaFest director for CAT.
This year, the concert is expected to begin at 5 p.m. – earlier than last year's NovaFest concert. It will begin immediately following the Field Fest on Sheehan Beach, which will feature a circus tent and other elements in keeping with this year's theme.
Student feedback from last year's NovaFest weekend indicated that they preferred an early afternoon concert, according to DaPonte.
Gym Class Heroes is a band from upstate New York founded by Travis McCoy and drummer Matt McGinley and characterized by a unique blend of hip-hop, rock, soul and punk.
The opening act is Chester French, an American pop music duo on Pharrell Williams' Star Trak label.
Over 25 acts were considered for this year's concert, according to Audrey Scott, one of the concert directors on CAT's executive board along with Dan DiGregorio.
The search for the NovaFest performer began last semester.
"We are in a race with other schools to book [a band] first and bid the most money, and the selection of bands that were touring this spring also made the process harder," Scott wrote in an e-mail about the process of booking a band for NovaFest.
Boston College hosted Ben Folds and Lupe Fiasco for its spring concert last Friday.
This year, CAT created a Facebook event so students could vote for the musical act they wanted to see at NovaFest. Names such as Ben Folds, Lupe Fiasco, Jack's Mannequin and Common were included on the list of possibilities.
"There is a lot of diversity in terms of musical taste on campus," DaPonte said.
Though Gym Class Heroes were not offered as a choice on the Facebook event, the poll had a significant effect on why they were chosen.
"In this year's case, we weren't able to book the specific artist that got the most votes, but we were definitely able to get a feel for the genre of music they asked for," Scott wrote. "We looked for bands that best fit this genre, and we think Gym Class Heroes are a good mix to fit what the majority of people asked for."
This year's budget was smaller than last year's, which made booking a band harder, according to Scott.
NovaFest weekend will begin on April 24 with a Taste of Philly event at 2 p.m. and a show featuring hypnotist Erik Kand at 6 p.m.
A new addition to the traditional NovaFest events is a dance in Jake Nevin Field House featuring a local radio DJ from 10 p.m. on Friday to 1:30 a.m.
Concert tickets are $15 if purchased up to a week before the event, after which they are $20. Students can purchase a package for $30, which includes tickets to the hypnotist, dance and concert. The concert is open to students and their guests.
CAT is looking for volunteers to set up, run and clean up the various events over NovaFest weekend. Sign-ups are tomorrow at the Oreo from 11:30 a.m. to 1:30 p.m.
All volunteers who work two events will receive a free T-shirt and tickets to every NovaFest event, including the concert on Saturday night.