Villanova's Cunningham selected in NBA draft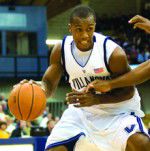 Four seasons of constant improvement and hard work culminated in one announcement that would change a career forever. With the 33rd pick in last night's 2009 NBA draft, the Portland Trail Blazers selected Villanova forward Dante Cunningham.
Heralded for his athletic ability and muscular 6-foot-8-inch frame, Cunningham impressed scouts with his strong work ethic and his refined mid-range jump shot.
"I think people saw that over the years, I got better and better," Cunningham said to the Philadelphia Daily News. "I added a 15-footer. I extended my range. I can go out and guard people on the perimeter. I think I have some versatility."
The Silver Spring, Md., native was a key part of the 'Cats first run to the Final Four since 1985. He led the team in scoring and rebounding with an average 16 points and seven rebounds per game, while leading the team to a 30-win season and national recognition.
For his efforts during the Wildcats' historic year, he was named Big East's Most Improved Player and was as a member of the all-conference second team. Most notably, Cunningham was a part of the winningest class in school history, collecting 102 total wins in his four years at the University.
Cunningham was the first Wildcat to be selected in the 60-player draft since 2006, when teammates Randy Foye (seventh overall to Boston) and Kyle Lowry (24th overall to Memphis) were chosen in the first round.
The forward will look to join an up-and-coming Portland team that finished 54-28 and made the playoffs for the first time in six seasons. He will be placed in an already-crowded frontcourt that includes LaMarcus Aldridge, the second pick in the 2006 draft, and Greg Oden, the first pick in the 2007 draft.
As a second-round draft pick, Portland holds the exclusive rights to sign Cunningham to a rookie contract. Unlike first round picks, second-round draft selections are not guaranteed contracts under the NBA players' collective bargaining agreement. However, there is a strong likelihood that he will sign due to his high selection and perceived interest.
"We are thrilled for Dante," said Head Coach Jay Wright in a statement released by the University. "Our team watched the draft together, and all of us are very proud. We knew the Trail Blazers liked him – they said from the beginning that he was a good fit for their organization."
Villanova's newest draftee was at the beginning of a slew of Big East second-round picks. After Cunningham was Georgetown's DaJuan Summers at No. 35, followed by Pittsburgh's Sam Young and DeJuan Blair at Nos. 36 and 37, respectively.
Headlined by Connecticut's Hasheem Thabeet, who was selected second overall by Memphis, and Syracuse's Jonny Flynn, selected sixth by Minnesota, a total of nine players were taken for the 16-team power conference.