Women's soccer rolls in North Carolina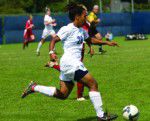 The women's soccer team picked up a win on the road over Charlotte on Sunday, scoring three times against a 49ers team that had allowed just one goal in its first three matches of the season.
Despite taking only six shots throughout the course of the game-compared to 16 by the opposing Charlotte team-the Wildcats were able to convert on more of those chances and come away with the 3-2 victory.
Senior Grace Hawkins began the scoring for Villanova, converting on a corner kick in the 29th minute. Freshman Heidi Sabatura and senior Erin Byrnes were both credited with assists on the play.
The Wildcats maintained that 1-0 lead through halftime, all the way until the 51st minute when Charlotte sophomore Jenna McKeon scored to even the match. Eight minutes later, Villanova sophomore Rachel Breton regained the lead for the Wildcats, scoring on a cross from teammate sophomore Katie Ryan.
Charlotte freshman India Winford then scored in the 68th minute, once again bringing the seesaw of a match to a tie. Less than a minute later, however, junior Amy Greco scored what would prove to be the game-winning goal for the Wildcats, sailing a shot from the left sideline over the reach of the Charlotte keeper.
Villanova senior Molly Williams defended the net for the entire game, making five saves and allowing just two goals on the 49ers 16 attempts. Williams, who has done the majority of the goalkeeping for the Wildcats thus far, has helped the Villanova squad to a 19-7 scoring advantage over its opponents this season.
Sunday's victory boosted Villanova's record to 4-0-1, with the team's other three wins coming against Temple, Virginia Tech and Lehigh, along with a tie against Nebraska. Charlotte, meanwhile, was handed its first loss and saw its record drop to 3-1-0. The win is an impressive addition to the Wildcats' early season résumé.
Charlotte has won the Atlantic 10 conference title for of the past two years, and the 49ers were able to take down Tennessee in the first round of the NCAA tournament last season before losing to eventual national champion North Carolina.
The win at Charlotte completed the Wildcats' weekend road trip to the state of North Carolina, which they began with a 4-1 victory over Davidson on Friday.
Villanova will look to keep the momentum it has gathered early this season.
The team returns to Villanova for home matches against Vermont and Delaware tomorrow and Sunday, respectively.