EDITORIAL: Finally, it's time to tailgate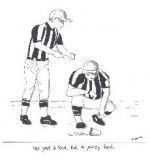 Tailgating, that annual autumn tradition at colleges around the country, has finally returned to Villanova. 
The Athletics Department has announced that for $20 per car, per game, fans can tailgate before football games in Pike Lot.  This privilege has been long overdue to return to Villanova and will serve to fill one of the only holes in 'Nova's school spirit.
Years ago – before any of us were 'Nova students, tailgating was wildly popular – too popular, in fact, which is why it was stopped.  Since then, the rowdy crowds have given way to the more intimate tailgate setting in the Pavilion parking lot for Blue/White Alumni members. 
While school-wide tailgating was canceled, football attendance suffered.  It was a shame, too, especially in recent years, as the 'Cats have fielded a strong team. Even last year when the team made the playoffs, the attendance remained low; without the tradition and fan base that tailgating creates, students never really warmed up to football.
This year's return of tailgating has huge potential for Villanova school spirit, football attendance and football popularity.  
In previous years, rival fans have been allowed to tailgate at Villanova, but our own fans have not.  The football team's numerous efforts to get fans out to the game have been stymied by the University policies that restricted Villanova fans on our own campus.
In order to prevent the drink fest, the University is treading cautiously.  Athletics has instituted numerous rules: tailgating may start three hours prior to kickoff and last up to one hour after kickoff, no tailgating may take place during the game, students on foot may not carry in alcohol, no kegs or charcoal grills are allowed whatsoever, and so on. 
Public Safety will ask tailgaters to leave who remain in Pike Lot during the game.  That's a smart move, because it will get more people into the game and stop the festivities from becoming disorderly.  The University understands that drinking will happen, but that the game, not getting drunk, is the main event. 
Not only will tailgating drive up student interest in football, but it will become a gathering place for families, alumni and area residents to create a strong culture around Villanova football.
All schools with viable football programs allow tailgating, and Villanova will rejoin the mix this year, better late than never.  It's a second chance for students to prove that they can handle the privilege and for Villanova to show that it can balance keeping order with having a little fun. 
'Nova Nation – from freshmen, to alumni, to professors – knows that March means down-to-the wire basketball here.  With the reintroduction of tailgating privileges, Saturdays in the fall will take on a whole new meaning at Villanova.  We've missed out on real football culture here for long enough and we welcome its return this season.