'Cats get the Ball rolling against Northeastern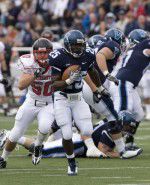 Looking for an early lead the ball didn't leave the hands of Ball, Aaron Ball that is, who had a breakout performance on Saturday as the football team conquered the Northeastern Huskies. With a total of 109 yards on just seven carries and one touchdown, Ball was on fire from the kickoff. In the first quarter alone, Ball ran for over 100 yards.
Ball, who was expected to be a key player for the Wildcats this season, started off the year a bit slow. Last year as a sophomore, Ball led the team with 13 touchdowns and totaled 1,081 rushing yards on 215 carries. He was the third Villanova Wildcat to rush for 1,000 yards in a single season.
After earning second team All-CAA accolades last year, the coaching staff anticipated Ball to have another successful year. Before Saturday's game, Ball had tallied 46 yards since the start of the season.
Before the Wildcats took the field, Ball knew he needed to play outstandingly.
"For the past couple of games I have definitely been struggling, so I wanted to come out here and get these guys going and excited," Ball said.
After sitting out of practice throughout the week with a sore hip, it was obvious that a little rest was exactly what Ball needed to get back in his playing groove.
On just the third offensive play of the game, Ball began the Wildcat dominance that didn't seem to end until the final whistle. Ball ran 31 yards up the middle into the endzone for the touchdown.
"I just followed right behind [offensive lineman Jonathan Bugli] and went straight," Ball said.  "There was nobody in the middle, so I tucked [the ball] and went."
There was no turning back after the first touchdown for Ball and the rest of the Wildcat squad. 'Nova went on to crush Northeastern 56-7. This might have been the first game that Ball rushed over 100 yards this season, but it was the fifth of his career.
"Every game I try to get these guys going based off my play," Ball said.  "I try to be a leader, not vocally, but by setting examples and making plays."
Making plays is exactly what Ball is doing, and he is setting an example for the rest of squad. Next week 'Nova will look for a continuation of this dominating style of football that Ball displayed. William & Mary could have to worry about more than just a football next week as Ball is going to be a major concern for the Tribe as they enter Villanova's home turf.