'Cats defend homefield by defeating Rams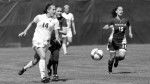 It was coming down to the wire until sophomore Katie Ryan managed to produce a thrilling finish to Sunday's women's soccer game, scoring in the last minute to beat the Fordham Rams 1-0. Ryan's clinch shots in the final minutes of play are becoming commonplace. While Sunday's key goal was her eighth of the season, it was Ryan's sixth game-winning goal of her career.
The noon game at the West Campus Soccer Complex ended the Wildcats' regular season non-conference schedule. It was the third time in the last four seasons that the 'Cats were able to remain undefeated in non-conference play. Villanova went 7-0-1 this season against its non-Big East competitors and is 28-1-3 (.922) in these games since the beginning of the 2006 season. The team bettered its record to 5-0-1 at home and are now 30-4-4 (.842) at home during the same time period.
Last week was the Rams' first win of the season against Manhattan, while 'Nova unfortunately earned their first loss against Georgetown. Sunday was the first time Villanova took on Fordham, but 'Nova has been successful playing teams from the Atlantic 10. They kept up their successful run with the late game victory.
The game was a defensive match with little offensive action taking place. Towards the end of the first half, Fordham outshot the 'Cats 6-5. In the last eight minutes of the second quarter, the Rams took five of the six shots on goal. At the start of the game, 'Nova was in control of the ball. Junior midfielder Rachel Schulyer and freshman forward Heidi Sabatura attempted header shots but both just missed.
The real action took place in the final minute of the game. Schuyler spotted Ryan and passed her the ball, avoiding the Rams' defense. Ryan broke away to the Fordham goal. Once inside the 18-yard box, she gently netted the ball to the left of Fordham goalie Jen Byer for the only Wildcat goal, making 'Nova victorious.
Now that Fordham has been beaten, the 'Nova women will have 10 straight Big East conference games before the end of the regular season and the start of playoffs. The Wildcats will take on Seton Hall at the West Campus Soccer Complex, to end their four-game home streak. The team is looking for a good turnout as it begins its conference schedule with the hopes of finishing the season strong and making a run at the playoffs. Kick-off for Seton Hall will be at 4 p.m. on Sunday.