'Nova looks for offensive spark as it takes on Northeastern for conference opener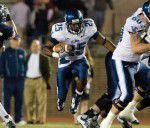 This Sunday, the football team will battle the Northeastern Huskies at Villanova Stadium. Coming off a 14-3 victory over Penn last Saturday, Villanova looks to start its CAA season with a victory over a stumbling Northeastern squad.
With large crowds expected due to Parents' Weekend, Coach Andy Talley and the Wildcats will look to improve upon their impressive 3-0 start to the season. The Wildcats' offense, which struggled somewhat last week against Penn, will look to regain its form as it returns home.
"It looks like we've put the defense and special teams together, now let's get this offense kicking," Talley said. "If you get this offense clicking, you have what you want to go for a championship."
Against Penn the offense seemed fragmented at times.
"[Penn] was one of those games where every group took turns making mistakes – the offensive line, the receivers, the quarterback. It was just one of those games where we were out of sync," Talley said.
According to Talley, the offense will emphasize the running game as a solution to last week's problems.
"When we did have the ball, we never got enough things going to have any rhythm in the running and passing game. I'm hoping that we can remedy this situation and come up with a better running game so we can develop the play action pass as well," he said.
Despite recent setbacks, Talley's outlook on the Wildcat's offense remains optimistic.
"On offense, I don't think we have really found our niche yet," Talley said. "The stars haven't come out yet."
On paper, Villanova is the clear favorite in its upcoming contest with Northeastern and has a great opportunity to jumpstart the offense. However, Talley and the Wildcats are not overlooking the game as a contest.
"They are a tough, physical team. They have always given us a rough game. I think the thing that our team has to be ready for is everyone is playing us like we are the No. 2 team in the country and playing better than they are. Even though they are 0-3, they are a CAA team that has been to war."
Coming off a tough loss to Youngstown State last week, Northeastern will certainly be motivated for the game, especially as they are still looking for their first win of the season.
Saturday will mark the Huskies first trip to Villanova Stadium since 2005. Northeastern will be looking to get back at the Wildcats who defeated the Huskies last year 20-14 on the Huskies' home turf.
Saturday will also mark the 16th time the teams have met in football competition. Villanova leads the all time competition with a 10-5 record against Northeastern.
The Wildcats will be on the lookout for a number of Northeastern players when the teams meet this weekend.
Husky junior receiver Greg Abelli will have to be watched carefully by the Villanova defense. Abelli has scored touchdowns of 35 yards and 33 yards over the Huskies last two games.
Special teams returner Tony Lott returned a punt last week for 76 yards, giving him the highest average punt return yardage in the CAA at 19 yards.
Northeastern will undoubtedly be watching a number of Wildcats closely as well.
Wildcat quarterback Chris Whitney has 422 passing yards this season including four touchdowns. Whitney is also the team's leading rusher with 178 yards on the ground. Villanova will rely heavily on Whitney to help get the offense back on track.
With Talley's emphasis on the rush this week, Villanova will look to its primary tailback Aaron Ball. Ball has 103 yards on 25 carries this year so far.
In the mix as always will be junior wide receiver Matt Szczur. Szczur's 87-yard kickoff return versus Penn marked his second career kickoff return.
On the defensive end of the ball, the Wildcats will look for a repeat performance by junior linebacker Terence Thomas. Thomas had a career high ten tackles last week against Penn.
Villanova remains ranked No. 2 in the country amongst FCS teams, behind only conference rival Richmond. The Wildcats will draw heavily on the hometown support this Parents' Weekend as a near-capacity stadium is expected.