STENDAHL: In death, as in life, an American stalwart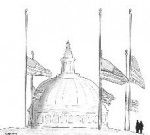 A little more than four months before he died, Ted Kennedy walked slowly to the pitcher's mound of Fenway Park with a baseball in his hand. It had fallen to him, on a blustery Tuesday afternoon, to throw out the ceremonial first pitch of Opening Day – a sort of public holiday in Boston, where the Massachusetts Senator was as much a local fixture as the ballclub itself.
Wearing a Red Sox windbreaker the same color as his ruddy face, Kennedy managed a one-hopper to Sox Hall of Famer Jim Rice, who stood a few feet away, crouched like a catcher. Kennedy laughed, retrieved the ball and tried again. Rice had edged closer this time, and Kennedy reached him. As they left the field, Kennedy waved toward the crowd's solemn applause, knowing, as they did, that he would probably never be back.
One year before he died, Kennedy walked to the podium at the Democratic National Convention and gave a short speech in support of Barack Obama's candidacy for president. The crowd roared their approval, as Kennedy, with a halting gait, stepped briefly into and out of a seminal moment in American political history.
Forty years before he died, Kennedy left a party on Martha's Vineyard in a 1967 Oldsmobile. A 28-year-old woman named Mary Jo Kopechne sat in the passenger seat. Kennedy lost control of the car and drove off a narrow bridge, landing in a pond below. Kopechne drowned as Kennedy swam to safety; he did not tell police about the accident until after her body was found.
Fifteen months before he died, Kennedy had a seizure and was diagnosed with a cancerous brain tumor. It was a diagnosis, too, for what might otherwise have been his signature legislative moment: the passage, on Capitol Hill, of a bill to overhaul the country's healthcare system. Instead, the bill stalled.
Forty-six years before he died, Kennedy saw, on the wire service ticker in the Senate Lobby, that his brother, John, had been shot dead in Dallas. He left immediately for Massachusetts, to tell his father. Five years after, Kennedy was in San Francisco, celebrating his brother Bobby's victory in a California primary, when he learned that Bobby had been shot dead in Los Angeles.
A few minutes before he died, Kennedy lay in bed at his home in Hyannis Port with his family beside him. Then he was dead, and he would really never be back.
What might become of his legacy? It is as complex and polarized a thing as his life. He has been loved and loathed in equal measure. He has presided over tragedy and triumph – over four and a half decades which reshaped the cultural and political landscape of America. He has been praised and reviled. He was a man who knew failure and success to dizzying extents, and who ultimately succumbed to the failure of his own body, as men are made to do.
Four days after he died, Kennedy was mourned at the Basilica of Our Lady of Perpetual Help on a rainy day in Boston. Plastic was placed over the American flag that draped his coffin, to keep it dry. After the funeral, he was taken by motorcade to Washington, where he was buried in Arlington National Cemetery, with other men whose deaths had been great and terrible events in the country's history.
But before, in Boston, the president had eulogized Kennedy. He had imagined him: "A man on a boat, white mane tousled, smiling broadly as he sails into the wind."
——————–
Max Stendahl is a senior English and political science major from Ipswich, Mass. He can be reached at [email protected]