RONZONE: As generation voyeur, we know details, miss the big picture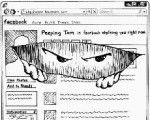 Clinical psychology calls it voyeurism. Society has colloquially dubbed it the Peeping Tom syndrome. Regardless of the name, the central idea is unmistakable: having an outstanding curiosity for and deriving a distinct pleasure from knowing the intimate details of another person.
Whether we confess to it or not, we know this hedonistic compulsion all too well, and we succumb to it more than we care to admit.
Blame the media produced by us and for us. Watching entertainment news programs and thumbing through gossip rags once satiated our fascination with celebrities, but soon enough, we craved more. We did not simply want to hear or read about the impropriety or foolishness of their antics. We wanted to see for ourselves by looking painstakingly at every scandalous pixel and frame of strategically leaked photographs and videos.
Likewise, we did not merely want to hear or read about their domestic hardships anymore. We wanted to see them unfold in real time, like a human drama in front of the camera, so the concept of the reality show dominated television airwaves.
It seems that we know so much about these celebrities except, perhaps, why the trivialities and personal aspects of their lives are even relevant to us outsiders in the first place.
At the very least, acknowledging our inexplicable urge to delve into their lives can broach a serious yet overlooked subject: how a severely decreased desire for and prioritization of privacy are affecting a generation.
Young people today are consumed by a society that not only enables but also normalizes voyeurism to the point where watching, seeing, reading and generally knowing the blush-inducing details of another person's life have become an entitlement of the modern age, rather than a privilege shared among close friends. Conversely, guardedness, privacy and overall modesty – especially in the realm of Facebook and Twitter – are sins of omission.
Voyeurism is so irreversibly embedded into the web of our contemporary culture that we expect public profession of thoughts and public discussions of self no matter the occasion or forum. Essentially, such thoughts and personal qualities do not exist until they enter the public domain; the very act of disclosure validates and proves the individual's identity and how he or she lives.
From this perspective, it is no surprise why so many young people eagerly publicize personal aspects of their lives: after all, their identities and reputations are at stake. Discussing hook-ups and current love interests in public is the surest indicator of sexual orientation, desirability or availability just as uploading pictures from parties and evenings out is the surest proof of an active social life.
Failing to broadcast those private details could prompt unwelcome interrogation or unfavorable assumptions from distant peers. The generation's thought process is quite simple, really: always be blunt, and never leave anything to imagination or guesswork.
The catch is, in their haste to establish themselves in a certain manner to their peers, and to project a specific social profile of themselves, young people risk reducing themselves to a mere list of characteristics and behaviors – gay or straight, partier or studier, sexually adventurous or conservative, drinker or non-drinker – as determined by others' interpretations of their public announcements, or lack thereof. And people are much more complex than that.
The cultural trend toward voyeurism also threatens to influence how people understand relationships. Interest in – or even knowledge of – the salacious details of another's personal life does not constitute a relationship.
Intimacy is not cultivated from a distance, forged by reading or hearing the gossip about someone else or making individual assumptions about a person. Instead, it requires an honest, meaningful human connection between two people – nothing less than that, and certainly anything more than that is always welcome.
——————-
Raquel Ronzone is a junior communication major from Philadelphia. She can be reached at [email protected].