Brand New to headline NovaFest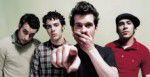 Brand New will be the main act for this year's NovaFest concert on April 26, with Sean Kingston scheduled as the night's opening act. "Hollywood" will serve as the theme for this year's NovaFest.
CAT officials announced the lineup for the concert, along with a listing of all events for the weekend, at the NovaFest 2008 Kickoff Event at 7 p.m. on Tuesday in the President's Lounge in Connelly Center. The event was also shown over the Web.
"For 2008, we have set the bar high," said Jeremy Osinski, director of public relations for CAT.
A Villanova tradition celebrating the last weekend before final exams, NovaFest will officially kick off on April 25.
However, this year, programming is scheduled for April 24, starting the weekend's festivities on a Thursday. At 7 p.m., WXVU, Face AIDS Villanova and Late Night will sponsor "Band-AIDS." The event will be a concert benefiting Catholic Relief Services' South African HIV and AIDS Programs. The concert will feature performances from Lucas Carpenter, Rusty Santos and additional artists to be named later. Admission to the event is free, but donations for Catholic Relief Services will be collected.
While "Band-AIDS" is technically not a NovaFest event, it was included in the list of programming CAT announced at its press conference.
"An important part of NovaFest 2008 is music for a cause," said Siobhan D'Angelo, co-director of CAT's Ideas and Issues Committee.
NovaFest events will begin on the afternoon of April 25 with a celebration at the Oreo from 2-4 p.m. The event will feature food provided by Taste of Philly, a live broadcast by WXVU and performances by student bands to be named later.
Later that night, Wayne Hoffman will perform a mentalist and illusionist show. According to his MySpace site, Hoffman is a professional mentalist and illusionist who recently appeared on the NBC TV show "Phenomenon." His act, co-sponsored by CAT and Late Night, will begin at 7 p.m. in the Belle Air Terrace.
Following Hoffman's performance, an outdoor movie will be shown on Sheehan Beach from 9-11 p.m. The movie has yet to be announced. In the case of inclement weather, the film will be shown in the Connelly Cinema.
NovaFest will continue on April 26 with the traditional field festival on Sheehan Beach. The event occurred behind Connelly Center last year, but in response to student feedback, CAT officials decided to return the festival to Sheehan Beach.
The theme for this year's festival is "The Hollywood Walk of Stars." The outdoor celebration, which will run from 1-5 p.m., will feature live music and food provided by Dining Services and Chipotle Mexican Grill. Additionally, there will be a red carpet area, and students will have the opportunity to purchase walk of fame stars, with proceeds going to Relay for Life.
The weekend will culminate with the evening concert featuring Brand New and Kingston in the Pavilion.
"For the first time, we bring together two styles of hit music," CAT's Music Events Co-Coordinator Lauren Christman said.
Doors will open at 8 p.m., with the concert starting at 9 p.m. Tickets to the event will cost $17 for Villanova students and $20 for all others.
Tickets will be on sale beginning on Monday in 108 Dougherty. This year, students will be able to use their WildCards to gain admission to the concert.
Long Island pop-punk band Brand New will highlight the evening's concert.
Made up of band members singer/guitarist Jesse Lacey, drummer Brian Lane, guitarist Vin Accardi and bassist Garret Tierney, Brand New has been together since 2000 and have produced three studio albums. The most recent, "The Devil and God Are Raging Inside Me," was released on Nov. 21, 2006.
Hailing from Kingston, Jamaica, 18-year-old singer/rapper Kingston will undoubtedly bring his dancehall- and reggae-influenced hip hop to the Pavilion.
Kingston burst onto the music scene this past summer with his hit single "Beautiful Girls."
The song topped the Billboard Hot 100 chart on August 11, 2007, making him the first artist born in the '90s to have a No. 1 song, according to Billboard.com.
"Beautiful Girls" held onto the top spot for four consecutive weeks. His debut self-titled album was released on July 31, 2007, and reach No. 6 on the Billboard 200.
Kingston followed up the success of "Beautiful Girls" with the Top 20 hit "Me Love" and the Top 10 hit "Take Me There."
Additionally, Kingston provided vocals for Natasha Beddingfield's hit single "Love Like This" and for the remix of Fergie's "Big Girls Don't Cry."
The fourth single from Kingston's album, "There's Nothin'" featuring Juelz Santana and The DEY, was released in February, according to his official Web site.