New Nicki Minaj album disappoints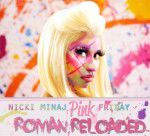 Similar to how Beyonce has her alter-ego, Sasha Fierce, and Mariah Carey has Mimi, Nicki Minaj has Roman Zolanski, a hoarse, harsh version of herself that gives a distinguishing edge to various tracks on her new album, "Pink Friday…Roman Reloaded." Minaj uses her Roman persona to spit her first three tracks, which give them that unique, rough flavor that aided in her rise to female hip-hop power in the first place over a year ago.
"Roman Holiday" is an odd, gritty track that showcases Minaj's knack for effortlessly switching voices and accents. If impending doom had a sound, it would be the eerie background noise of the second track on the album, "Come on a Cone"-a don't-mess-with-me type of single with a strange, buzzy feel.
"I Am Your Leader" is typical Nicki Minaj: strange, otherworldly, yet somehow still urban, especially with added vocals by Cam'ron and Rick Ross. She switches back and forth between herself and Roman for the middle tracks, mostly sticking with Minaj for "Beez in the Trap" and "HOV Lane," which follow the same tough, feminine hip-hop vibe as the first few tracks on the album.
Next, however, she slows it down for what is probably the album's only serious, heartfelt track: "Champion," which features Nas, Drake and Young Jeezy.
"Right by my Side" is a smooth pop song featuring Chris Brown with yet another typical message of being unable to live without a man in her life.
"Starships" then begins the series of cutesy bubble-gum tracks on the rest of the album, which are all probably Minaj's desperate attempts to penetrate the popular party scene and try to turn out No. 1 hits.
Unfortunately, she may succeed-they're as catchy and addicting as candy. "Pound the Alarm" and "Automatic" are perfect, pump-up club songs. "Whip It" and "Beauiful Sinner" are songs that embody the bad-girl-next-door concept: undoubtedly sweet but with unexpectedly fierce sides.
The final track of the ablum, "Marilyn Monroe," is unlike any of Minaj's other songs due to its wistfulness. Its lyrics are adapted from the Hollywood icon's most famous quotes, but Minaj bluntly reflects, "Is this how Marilyn Monroe felt?"  Unfortunately, "Pink Friday…Roman Reloaded" has received criticism and disappointing reviews. Although some of her more club-friendly tunes may become Top 40 hits, the album as a whole is not a good showcase for hip-hop's supposed new queen. Minaj may have reloaded, but compared to the success of her first album, she fell short of hitting the target.