10 Totally Random Questions for…James Manganiello, Sophomore, Chemical Engineering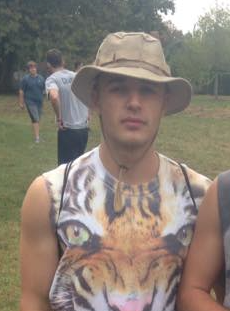 1. If you could be the CEO of any company, real or fictional, which would it be and why?
"I would be in charge of Sweet Baby Ray's barbecue sauce, because whatever they do over there is magical."
2. If you could rename the movie Titanic, what would you call it?
"Leo's peak."
3. What's one food you wish the Pit had every single day?
"Flaming souffle. Just for the comedy aspect."
4. What was the last dream you had?
"The last dream I had was crying in the shower after watching 50 Shades of Grey…or that was last Tuesday."
5. Villanova will win the NCAA Championship because…
 "Jay Wright's just too good looking to lose. I call it the 'main character effect.'" 
6. What one thing always distracts you from doing your work?
"My friends asking me to fill out a list of miscellaneous questions."
7. Which character from "Entourage" would you be and why?
"Definitely Drama. I have perpetually small calfs and I'm very self-conscious about it." 
8. How much coffee is too much coffee?
"Holy Grounds had a free coffee deal during finals week last year. That's too much coffee?"
9. Would you rather scuba dive or sky dive? Why?
"Well, I've already gone sky diving, so I would love to go scuba diving. I'm also deathly afraid of Sharks so that could pretty funny." 
10. What would your first action be as president of Villanova University? 
"Obviously fix the wifi. No matter the cost. Then a rock climbing wall over a pool. Just 'cause."