10 Totally Random Questions for… Bryan Fishkin, Junior, Finance and International Business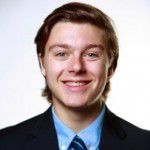 1. What is the last song that you listened to?
"Commas" by Future. It's a banger.
2. Spirit animal?
Puppy. They're loyal and energetic.
3. Team Drake or Team Meek?
Team Drake all day.
4. Favorite breakfast food?
Bacon.
5. If you had to live outside of the U.S. for the rest of your life, where would you go?
Probably some small Italian town. Urbino, perhaps. That's where I'll hide when Trump wins.
6. Favorite Quentin Tarantino movie?
"Reservoir Dogs."
7. Which TV character do you identify with the most?
Eric Foreman from "That 70's Show."
8. Favorite book?
"The Five People You Meet in Heaven" by Mitch Albom.
9. Album that you'd choose to be the soundtrack to your life?
"My Beautiful Dark Twisted Fantasy" by Kanye West.
10. Best thing to combine with peanut butter?
Granny Smith apples.