Snap Pizza redefines mainstream on the Main Line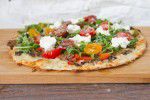 Barely visible to passerbys, Snap Custom Pizza allows customers to use their imaginations to create delicious, thin crust personal pan pizzas topped with a sumptuous array of organic ingredients. Along with six cheeses and five different sauces, the restaurant also offers six meat selections, nine diverse vegetable options and fifteen finishing touches. Some might find these many choices overwhelming, especially when every topping seems irresistible. If this happens to be the case, as it is for me, Snap suggests some signature pizzas for indecisive customers. 
A couple of these signatures are even specific to the area, such as the South Philly Pizza (herb cream, slow roasted pork roast, garlic broccoli rabe, house roasted peppers, aged provolone and mozzarella) and my personal favorite, the Kennett Square (herb cream, roasted local mushrooms, mozzarella, crumbled goat cheese, baby arugula and truffle oil). 
 Located right across from the Ardmore train station of the Paoli Thorndale Line (station on West Campus), Villanova students can take the train directly from school to Snap. 
Since Snap allows BYOB, students don't need to worry about transportation and driving if they want to have a couple drinks with dinner. The pizzeria also traditionally gives a free glass of wine on Wednesdays for "Wine Wednesday." 
The lucky diners get to pick up their free, hearty glass of red wine as they pay for the pizza. 
Despite the extensive organic options, each pizza is only $7.49, no matter how many toppings the diner adds to his/her pie. Diners can also choose to separate their pies and create orchoose two different pizzas. Many might be skeptical that one personal pie will not satisfy their hunger. However, most feel that the personal pan is more than enough to fill them up. 
For those who always need an appetizer and desert, Snap offers a selection of salads and cheese platters for a pre-dinner option and gelato and an exceptionally popular Nutella, banana and whipped cream pizza for desert.   
Although Snap is a great place to meet friends and family and catch up with out-of-towners, the restaurant can also be utilized for a quick, but different, type of fast food. 
The pizza artisans make your pizza as you say what ingredients you want, and the pie comes out within five to 10 minutes. However, if a person plans to meet friends they might find an issue trying to reach one another.  Since Snap's location is below ground, most people do not get cell reception–blocking calls, texts and Internet usage. 
Therefore, if a friend gets lost or runs late, getting in touch becomes a problem. However, many people view the lack of reception as a positive thing. Because  people are unable to use their phones during dinner, it indirectly promotes more socialization.
Finally, despite the location underground, Snap gets a lot of natural light from from the front window and entrance door. The decorations are set up in a unique and alternative way with Christmas-like lights and pipes attached to the walls. 
One final thing to note is that there are two large male and female bathrooms. Although this might not seem like a deal breaker, after a couple drinks everyone almost always has to make that run.