Controversy will catch Ben Carson, despite lead in polls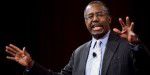 With the 2016 presidential election now one year away, Republican voters continue to swoon over Washington D.C. outsiders. Retired neurosurgeon Dr. Ben Carson has gradually climbed in the polls, even overtaking long-time frontrunner Donald Trump on some national and Iowa caucus leaderboards. 
Even the brief version of Carson's life story is undeniably remarkable and inspiring. Born in Detroit, Carson was raised by his single mother who worked multiple jobs at a time to support her two children. Carson, who says he defeated his maliciously violent temper as a youth by turning to religion, propelled himself from a poverty-stricken beginning to eventually become the director of pediatric neurosurgery at Johns Hopkins. 
Because of Carson's achievements throughout his life and his soft-spoken, relaxed demeanor, he has appealed to a large sect of the Republican base. However, it is those strong qualities and resume that have seemingly masked some of Carson's less admirable features.  
In spite of his current hot streak of gaining support, Carson finds himself in the middle of considerable controversy, which is not particularly new to his campaign. The latest criticism stems from Carson's claims about his troubled youth. Carson asserted that growing up, he once attempted to hit his mother with a hammer and had his attempt to stab a friend thwarted by his target's belt buckle.   
Various media outlets have questioned the veracity of Carson's declarations of delinquency, and yet Carson insists that reporters simply have been speaking to the wrong people. Clearly, Carson is more concerned with getting pegged as a liar than as a former delinquent. He is calling out specific news organizations as well as the entire mainstream media for what he sees as unfair attacks. 
He is also receiving pointed questions about his repeated statements about having turned down a scholarship offer to West Point, a school that does not require tuition. Carson ended up attending Yale University to pursue a career in medicine, but he is now clarifying that instead of rejecting a formal scholarship offer to the military academy, he instead had conversations with high-ranking military officers who told him they could get him admitted. 
Regardless, these common battles with the media have not unhinged Carson's campaign. The continued popularity of Carson and Trump—as well as former Hewlitt-Packard CEO Carly Fiorina to a lesser degree—bolsters the idea of G.O.P. masses rejecting the idea of electing another career politician. 
In a recent Facebook post, Carson aimed to discredit people who denounce his candidacy for president because of his lack of experience in elected office. Carson countered that "every signer of the Declaration of Independence had no elected office experience." 
As many media outlets were quick to point out, Carson's statement was blatantly untrue. In fact, numerous signers of the declaration served on colonial assemblies. Later, Carson's post was edited to say that no signer had "federal elected office experience," but of course, there was no federal government established in the U.S. before the founders declared our nation's independence from Britain by signing the document. 
Carson's inaccuracy should not necessarily be the focus, because his point was clear. Carson also included in those remarks that the members of Congress, a notoriously unpopular body, has 8,700 years of experience in elected office, and therefore proficiency is clearly not gained by practice. 
Let's say that Carson's comment about the signers was factual. Still, having the courage to ditch British rule along with 54 others in the 18th century does not require the same level of skill as leading the world's most powerful country starting in January 2017. However, a significant portion of Republicans appear willing to hand the reins to a newcomer who will diverge from the tired, slow methods of contemporary policy making. 
Carl Cannon of Real Clear Politics understands voters' widespread anger with failed traditional politics, but doesn't see turning to an outsider as the solution. "What other profession would you start at the top?" Cannon asked. "Would you get to fly Air Force One if you never went to flight school?" 
Some Americans might not realize the president's diverse and seemingly infinite responsibilities, many of which Carson would be encountering for the first time in any capacity. It is often the limited power of the president and other aspects of government bureaucracy that prevent drastic change, not necessarily the skill and experience of the person in the oval office.
In addition to never having held elected office, Carson has made more than a few outside-the-box remarks during his candidacy. He received backlash earlier this year after saying that homosexuality is a choice, a point that is strongly refuted by the LBGT community. Worse, Carson backed his words by citing instances of inmates who enter prison straight and come out gay.
More recently, Carson was rebuked for publicly stating that he would not support a Muslim as president of the United States. He has also publicly doubted humans' contribution to global warming through our production of greenhouse gas emissions.
Carson—like Trump—has not been knocked off course by incidents and criticisms predicted to be serious obstacles to a successful campaign.  
A recent CNN poll has Carson just two points off the lead in Iowa. Carson's 23 percent trails only Trump's 25 percent, and Sen. Marco Rubio polled third with 13 percent. 
One of Carson's main selling points has been his inexhaustible Christian faith. He frequently invokes the Bible and Christian values during rallies and interviews. As a result, he is receiving strong support from evangelical Christians, many of whom reside in Iowa. 
Carson even went so far as to depict his relationship with Jesus Christ through a painting of the two men—who lived thousands of years apart—that hangs in his home. Jesus, with his hand on Carson's shoulder, is donning his trademark white robe while Carson wears a lab coat of the same color. Carson's possession of this portrait seems lightly humorous at best—delusional at worst. 
This can be said of a number of Carson's positions and claims, a fact that becomes more puzzling when one considers his brilliance and lengthy list of accomplishments in medicine. Eventually, the furor surrounding Carson will block out the praise that originally came with it.