"Zootopia" directors give 'Nova a first look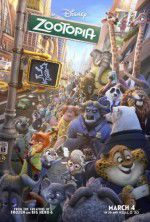 Byron Howard and Rich Moore, two successful and critically acclaimed directors at Disney Animations, visited the University on Tuesday Feb. 23 during a series of College press tours for their new feature animation film "Zootopia."
"Zootopia" was released March 4, making $73.7 million opening weekend in the U.S., breaking previously set Disney animation records. 
"At its core, 'Zootopia' is a body  movie,"  director Moore said. The movie follows Judy Hopps and Nick Wilde—a rabbit and a fox—who are natural predator-prey enemies are brought together to solve the case of missing mammals. Judy, voiced by Ginnifer Goodwin, police officer and the first 'prey' animal to join the force. Nick, voiced by Jason Bateman, is her polar opposite: a con-artist fox with dishonest tendencies. 
During the visit, students were given a first look at the world created by Howard and Moore. "Zootopia" took over four years to create, as evident by its complex structure. Students walked through the six districts of "Zootopia:" Sahara Square, Tundratown, Rain Forest District, Little Rodentia, Bunnyburrow and Savanna Central. Howard explained that during the creation and design process, the team at Disney was sure to consult field experts to make sure the animal world was as realistic as possible. That means that everything in the movie could actually exist and function, including a constructed wall that would simultaneously heat Sahara Square and freeze the bordering Tundratown. 
Students were also shown one of the film's opening clips, which acted as a tour throughout "Zootopia" where it is shown how gerbils travel the city, how giraffes are serviced, and how one source of mass transportation serves animals of different sizes.
Howard described a desire for keeping the animals to scale, so a mouse was not as big as a fox, and a fox was not as big as an elephant or rhino. "We wanted to be true to the real scale of the animals—something rarely done in animated animals films. So our world has to accommodate animals of all sizes in a clear and creative way," said producer Clark Spencer. 
What sets "Zootopia" apart from its animal film predecessors is the unique setting and complete immersion into animal world life. "Each district is designed for a specific type of animal—the look, the climate, everything reflects the habitat the animals need to thrive," said Howard." By bringing all these environments, all these different kinds of animals together in one big melting pot of a city—we create opportunities and relationships between animals that would not otherwise be possible." 
The visit from Disney has been the second of its kind at the University. This past fall an animator for Pixar's The Good Dinosaur held a similar presentation. Both gave students an in depth looks at the animation process, and how a one hundred million dollar project is created from start to finish. Hopefully, teams from both studios will return for their next films. 
Following the lecture given by Howard, I went to see "Zootopia" in theaters. Overall the movie was a hit. 
"Zooopia" deviates from recent animated films that thrive off of tear jerking storylines filled with death and sadness. The film thrived purely from its well balanced and well timed story structure as well as its perfectly crafted animal-city and culture.
Because the film is animated it is targeted at young audiences, however, a wide range of age groups could enjoy it. The reason for this is the story's core-message. The film takes on the discussion of stereotypes and prejudice. The foremost being predators and prey, but as the movie proceeds the audience finds that every animal species is facing their own stereotype. For Judy Hopps, a rabbit, she is too cute and weak. Nick Wilde, a fox, has faced accusations of being sly and untrustworthy since childhood. Everyone from the biggest lion to the smallest shrewd is struggling with something in the city with the motto "In Zootopia, anyone can be anything."
If you need an excuse to see an animated movie, take the kids you babysit out. Zootopia is the animated film that you will not want to miss—no matter your age.