Dumpling make the heart grow fonder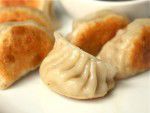 As autumn weather approaches, trips into the city are a must.  Philadelphia in the fall is unlike any other city because each neighborhood is so vastly different from the next.  The best part of walking around Philly, in almost-chilly weather, is the amazing food that waits around every corner.  So break out your favorite sweater and hop on SEPTA to the greatest noodle experience of the season.  If you are in the mood to stroll around Philly and grab a bite to eat along the way, Nan Zhou in Chinatown is the perfect place to visit.  
If you don't have a car, Chinatown is easily accessible from Jefferson Station and offers a variety of foods from many different cultures. Along the way, you can peruse the many shops and find that perfect dessert place for when you're done with lunch and on your way back to the station.  Zagat rated, Nan Zhou is nestled on Race Street between 10th and 11th Street and is just a few blocks walking distance from the station. You can order anything from huge bowls of noodle soup to whatever stir-fry dish your heart—and stomach—desires.  Could this be the perfect lunch place? You decide. 
When I first visited this little restaurant, I was thrown off by the greeting I received.  Based on my experience, I would call the service unpredictable. Immediately after walking in, someone from across the room wordlessly pointed to a table and I took that as my cue to see myself over to my seat—classic Philly.  I asked the waitress what her favorite thing on the menu was, and she recommended their house-spun noodle dish.  I ordered the noodles with beef, because I have tried many places that always serve really tough or overcooked meat.  However, I was pleasantly surprised that the beef on my plate was almost as tender as the noodles were. The best quality about Nan Zhou is the freshness of their food.  You can instantly notice that their noodles really are made in-house, and that all of their veggies are at their freshest.  
After lunch, I went to one of the many teahouses that line the streets of Chinatown.  If you have never tried Bubble Tea, Teassert Bar is a great spot to have your first one.  It has many fun flavors to try and the tapioca bubbles, or Boba, are a must to add on.  If boba isn't exactly your cup of tea, not to worry, there are many other different drinks and desserts to try. My personal favorite is the jasmine green tea, but if dessert is what you're after, then you will love the ice cream rolls.
This small hole-in-the-wall is worth the trek.  The area is great for exploring, the food will keep you wanting more and the overall experience is worth re-living.  It is also the perfect spot if you are trying to impress a date or just have a great time with a large group of friends.  Places like Nan Zhou are great to visit because the experience is whatever you want it to be, and the food will be consistently delicious. The atmosphere at Nan Zhou itself is nothing too special, but it is not loud or crowded.  It is a casual setting with low priced, but very tasty, menu items (perfect for college budgets).  The portions are bigger than a street snack, but they aren't overwhelmingly huge like some of the other dishes you'll find in China Town. Other recommended items have been the fried rice and the steamed or pan seared pot stickers. Lastly, don't forget to take a photo with the Chinatown arch—after all, were you even in Chinatown if you didn't get an artsy photo?