The University honors Boston Marathon survivors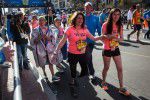 On April 15, 2013, Celeste and Sydney Corcoran waited for a family member to complete the Boston Marathon when two bombs exploded at approximately 2:50 p.m., killing three people and injuring at least 264. Celeste lost both of her legs below the knees. Sydney nearly died on the sidewalk due to a severed femoral artery until a Good Samaritan applied pressure to her leg to reduce bleeding. Part of the pressure-cooker bomb had lodged into her thigh. On Thursday, Feb. 23, the University's Office of Disability Services will present the fifth annual Fr. Bill Atkinson, OSA, Humanitarian Award to Celeste and Sydney Corcoran, mother and daughter Boston marathon bombing survivors, as part of the Office and LEVEL's NOVABILITY Week from Feb. 21 to 23. 
 "Father Bill Atkinson is an important figure in the history and the life of Villanova University," Stephen McWilliams, Director of Disability Services, said. "His saintly life lived with faith and love presents a blueprint for anyone struggling to find meaning life's most challenging moments. The Corcoran family has responded to tragedy with the same spirit and mental strength as Father Bill. The character that these individuals demonstrate presents a unique opportunity for the Villanova community to reflect and celebrate the power of the human spirit."
 Since the bombing, the family has moved into a custom-built home to accommodate Celeste's wheel chair. The family welcomed two service dogs, and Sydney has faced anorexia and post-traumatic stress disorder.
 "It comes down to three qualities, which draw me in: Resilience, perseverance and faith," Villanova alum, NBC10 anchor and host of the award ceremony Keith Jones said. "The Office of Disability Services has its finger on the pulse of what makes Villanova so exceptional. It's an honor for me year after year to support their incredible work and help host the Father Bill Atkinson, O.S.A. Humanitarian Award.  Celeste and Sydney exemplify the quality and power of the human spirit."
 When gunman Omar Mateen killed 49 patrons and injured over 50 others in the Pulse nightclub in Orlando in 2016, Sydney and Celeste, among many other Boston bombing survivors, came to Orlando Regional Medical Center to visit Florida nightclub shooting victims with cards, letters, encouragement and love. 
 Their support mirrors Celeste's experiences in 2013 when US Marine officer, Gabe Martinez, provided advice about living as an Afghanistan veteran who lost both legs. According to NPR, Martinez was "living proof Celeste needed that double amputees don't have to be dependent invalids."
 "The Office of Disability Services and our student group LEVEL set out to change the way people see ability," Greg Hannah, Assistant Director of Disability Services, explained. "To honor Celeste and Sydney with the Father William Atkinson O.S.A., Humanitarian Award shows our commitment to inclusion and provides our students an opportunity to understand every day people living in the world around us."
 As part of NOVABILITY Week, the Office of Disability Services and LEVEL screened HBO's 2016 documentary "Marathon: Patriots Day Bombing," featuring the stories of three Boston families, including the Corcorans, on Tuesday and gave away shirts and honored the Corcoran's during the men's basketball game against Butler on Wednesday. 
 Villanova's Office of Disability Services established the Fr. Bill Atkinson, OSA Humanitarian Award in 2012 to recognize those who exemplify the spirit and service that Fr. Atkinson, the first quadriplegic ordained priest in the Catholic Church, embodied throughout his life. Former recipients include Eric LeGrand, Tom Rinaldi, John Canuso and John Tuzzi, PhD.