Junior political science major walks New York Fashion Week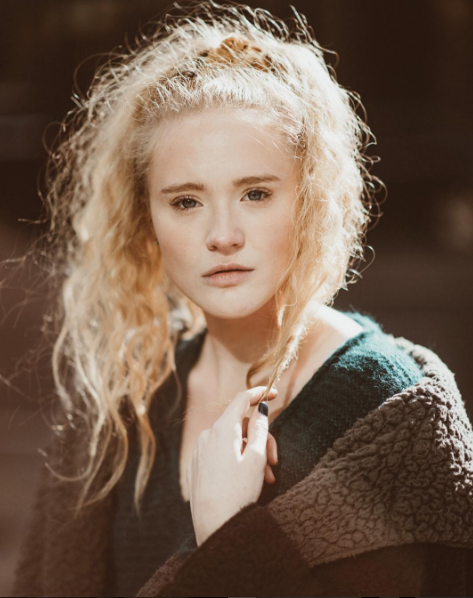 Twenty-one-year-old Gigi Hadid walked New York Fashion Week for the first time in her career, adorned in colorful studs and leather for the Jeremy Scott fashion show.  In the same week, 21-year-old and Villanova political science major, Kellyanne Duffy, also walked her first NYFW shows of her modeling career. 
We spoke with Duffy and discussed her career, the accuracies (and inaccuracies) of America's Next Top Model, body positivity and learning to grow thick skin. The interview has been edited for space. To read the full interview, go to villanovan.com.
 Tell me about when you first considered the modeling career. 
 Modeling was always in the back of my mind. I loved to watch America's Next Top Model when I was younger, and I was always very tall for my age growing up. I used to feel awkward and lanky and I had to stoop down to talk to my friends. I was taller than most boys, as well. Coincidentally, my best friend Jenny, who has been by my side since we were six, was also very tall. Jenny was scouted in high school, and moved to Los Angeles after her senior year to model full time.  Unfortunately, the pressures of the industry caused her to develop an eating disorder. She chose to come home and go to school at West Chester full time. She has dabbled in modeling since then but generally chose to leave it behind her. Although Jenny did not have a positive experience, I decided about two years ago that I wanted to try it out on a smaller scale. I submitted photos to Wilhelmina Philadelphia, and they invited me to an open call. I walked the runway for them, and they called me the next day offering to represent me.
 Prior to modeling, what were your perceptions of the modeling world? How did your career change or confirm those perceptions?
 Since my best friend had modeled before me and didn't have a great experience overall, I was a little bit uneasy about the industry. It can be incredibly glamorous, with designers, hair stylists and make up artists transforming you into seemingly another person entirely. I have received countless compliments from people who I have worked with or for. However, rejection is also consistent and it stings every time. I generally prefer photoshoots to runway shows. Overall, I feel blessed to have been able to collaborate with so many creative and talented individuals! I feel that I have always been able to shake it off when I haven't been treated well in the modeling world, and I make sure to act as a professional at all times.
 Which shows did you walk in NYFW? (Was this your first time at NYFW? If so, what was this experience like? Is it as crazy as its perhaps perceived? Is walking at NYFW any different than walking at a different show in your experience?)
 In September, I was booked to walk for several designers for the Art Hearts Fashion set of shows. It was my first casting, and it went very well. The first day, however, I did not end up walking for the designer who booked me. I was not thin enough to fit into his designs. It was a huge blow to my confidence, but I know that I do not actually need to lose weight in reality. I learned that day that I needed to have tough skin to continue modeling. The next day, I walked for Temraza. She is an Egyptian designer. She was so gracious and wonderful to work with, focused on presenting girl power through her show. Two models from America's Next Top Model also walked in that show! I was definitely fan-girling, and I couldn't believe that I was in the same show as them. I was last-minute booked for the last day of the shows. I walked in two shows, one for Elley Orem and another for Resty Lagare. In the second show, my shoes were loose, so I was praying the whole time that my feet weren't going to slip out of the back. I don't think that my walk was nearly as good as it could have been for that reason, but luckily I didn't stumble or fall. Walking in NYFW, as opposed to a Philadelphia show, is more exciting yet definitely more chaotic and scary.
 Does America's Next Top Model have any validity in its depiction of the modeling world?
 It is absolutely a valid depiction in many ways. The modeling world is so tough, and you need to be dedicated and talented in order to succeed. It seems like it would be so easy to pose and walk. It is not nearly as simple as it appears. I have put up with a lot of discomfort, criticism and frustration in order to pursue modeling as a part time career. Also, there is not much room for modesty. I have had to be almost completely naked in rooms filled with 40-50 people. I have caught men looking at me, and it's extremely uncomfortable, but it is part of the job. The one aspect of America's Next Top Model that I don't believe is realistic is the photoshoots. Maybe it is because I haven't worked with a photographer at the top of the industry, but they have all been incredibly nice to me. The photographers often get very frustrated with the models in the show, but that has never happened to me. I think that many female models begin to suffer psychologically from the pressure to be thin, but this pattern is also rarely shown in America's Next Top Model.