Acclaimed novelist Jennifer Haigh visits the University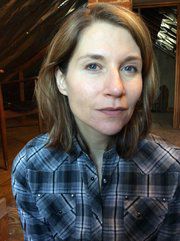 The 2017 Literary Festival concluded on Thursday night with a reading by Jennifer Haigh, from her latest of six novels, "Heat and Light." The intensely researched and meticulously written story follows the complex lives of characters set in a fracking community.
"The galvanizing event for this story is natural gas drilling and the controversy over fracking in Pennsylvania, but the book is much larger than that," Haigh told a captivated audience in Falvey Library's Speakers Corner. "It's really a book about our hunger for energy. Some might even call is our addiction to energy and how it influences our economies, our communities, our lives."
The novel is written in present tense, setting it apart from the author's other works, which include short story collection "News From Heaven," and novels "Faith," "The Condition," "Baker Towers" and "Mrs. Kimble." Haigh called "Heat and Light" "an Herculean effort" because she spent five years doing nothing but research and writing.
"I started writing this book having certain feelings about fracking," Haigh said. "But as I learned more about the subject I realized that I could not do justice to this story just talking to people who had leased their mineral rights. That's only one piece of the story."
Haigh is a graduate of the Iowa Writers' Workshop and has been published in "Granta," "Electric Literature" and "The Best American Short Stories." She is a winner of the PEN/Hemingway Award for debut fiction and the Massachusetts Book Award.
"I guess what I wanted to do is show exactly how it is," Haigh said when asked what she hopes the book will accomplish. "I just want to show this is what it's like to have a drill rig 200 yards from your back door. This is what it's like to be concerned about your community and trying to organize your community and to be convinced that your immediate environment is in danger."