The Villanova Book Buzz: Little Fires Everywhere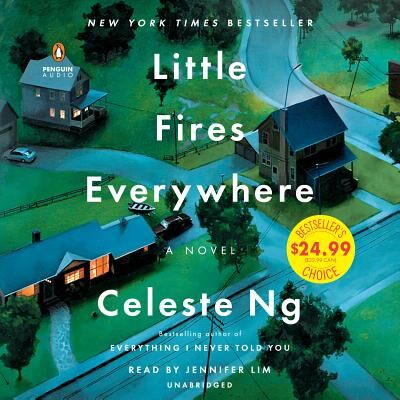 "Little Fires Everywhere" by Celeste Ng tells the story of the chaos following Mia Warren's arrival in the orderly town of Shaker Heights when secrets come to light and truths unravel. This book touches on various topics such as family ties, identity and class and explores the dynamic between mothers and daughters.
Shaker Heights is a suburb of Cleveland, Ohio that breeds idealism and exceptionalism. It is a haven of order and control, where everything is planned to a tee. That is, until an artistic single mother, Mia Warren, arrives and causes a stir. Mia and her daughter, Pearl, become tenants of the Richardsons, a stereotypical wealthy suburban family. When Pearl befriends the Richardson kids, and Mia begins to work in their house, the lives of these two families become intertwined. 
The book opens with a very literal flame: the Richardsons' house is on fire. The presence of fire in this static suburban town is ironic but symbolic of the conflicts that consume Shaker Heights throughout the plot. The book takes readers through the events that unfolded leading up to this destruction, and Mrs. Richardson and Mia Warren provide a striking contrast in how they handle these conflicts. 
Mrs. Richardson, set on a life of planning, order and structure, is quite different from the loose, mysterious and expressive Mia. Yet, they are bound together through the conflicts they face. Most significantly, one challenge they share is bringing up their teenage daughters. Mrs. Richardson struggles to understand her fiery, misfit daughter, Izzy, while raising her three other children. On the other side, Mia tries to keep her daughter, Pearl, under her influence as she feels her slipping through her fingers and falling into the hands of the Richardson family. Though the two women face similar challenges, their perceptions of motherhood are very different.
As the town faces a custody battle between adoptive parents versus a biological mother, the two women find themselves on opposite sides and embrace different perspectives of what it means to be a mother. From here, a question can be raised: is it simply enough to provide care and love, or is it vital that mothers have a shared identity with their children?
"Little Fires Everywhere" draws the reader into the complex community of Shaker Heights and truly makes one feel immersed in this strange town. One will not be able to put this book down as the unraveling of truths and secrets keeps readers wondering what will happen next.