Illiterate Lights Rocks the Boot and Saddle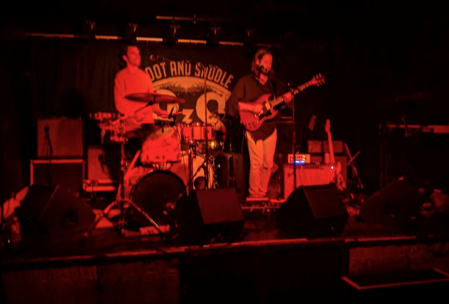 Danniela Estrada Staff Writer
October 9, 2018
On Wednesday Oct. 3, a local East Coast band rocked the night away in Philadelphia. The Boot and Saddle is a quick ride into the city and hosts different music events throughout the week. It cost $12 to go inside the venue and listen to the band of the day. While the Boot and Saddle is typically a place for Country and Western music, they invite bands of all backgrounds to perform. 
Sleepwalkers and Illiterate Lights performed and produced contagious excitement for everyone in attendance. Both bands are self-proclaimed pop rock/ Indi rock groups. They are currently on tour to promote new music. Sleepwalkers recently released a new album last month and dropped a single this past week. Illiterate Lights on the other hand dropped a new single and has a planned album drop for later this year. Both are young groups that are full of energy and passion for the music they are making. 
I had the chance to sit down for an interview with Jeff Gorman and Jake Cochran from Illiterate Lights. Both are huge basketball fans, and immediately said they wanted to congratulate Villanova for being basketball national champions. They were also excited to talk about their new music and different advice for college students. 
They both remembered graduating from college and not being sure of what was happening in the world outside of campus. They did not understand the college bubble until after graduation. Therefore, their music often serves as a commentary on the world as it is now. At the same time, they ask many of the questions they had while studying in college. The newest single they released is titled "Growing Down." This is a play on words on the typical idea that we must be growing up while in college. They suggested finding a passion and learning what works and what doesn't. If something doesn't click, it's not the end of the world. We have the time and talents to change the world in our own way, and our own time. They are hopeful for our generation to be able to make a real difference in the lives of others. They are also hopeful for another Villanova basketball championship.
While I only interviewed Illiterate Lights, both bands were exciting to watch live. They were full of energy and interacted with the audience the entire time. Both are hoping to stop by Philadelphia again soon. I highly recommend attending as they will leave you speechless. Until they swing by again, feel free to follow either band on Spotify and listen to the new content they are working on tirelessly. Remember to take a study break and appreciate the culture that exists just a train ride away from the University's campus.