NOVAdance Raises Over a Half Million Dollars to Fight Pediatric Cancer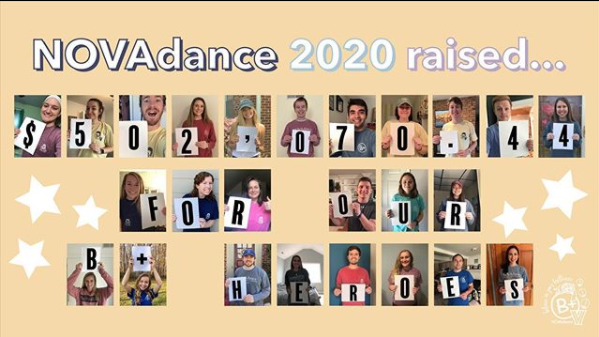 The COVID-19 pandemic forced all students home for the second half of the spring semester, and because of this, many extracurricular programs came to a grinding halt. However, a sudden stop was not the case for NOVAdance.
This year, NOVAdance raised $502,070.44. All of its on-campus events, email campaigns and social media efforts have certainly paid off. More than 500 families with children battling various types of cancer can now be helped thanks to the effort of so many Villanovans and generous donors. 
NOVAdance began as an initiative between Sigma Nu fraternity and Delta Delta Delta sorority in 2013 to raise money for the Andrew McDonough B+ Foundation. The B+ Foundation, as it is better known, is the largest provider of financial assistance to families with children who have cancer in the United States. All of these children helped by the foundation are lovingly referred to as heroes for the battles they are fighting with strength everyday. 
NOVAdance has become a year-long fundraising and awareness effort at the University to help pediatric cancer patients. Each spring, NOVAdance culminates with a 12-hour dance marathon in Jake Nevin Fieldhouse.
Many Villanova students can attest that, leading up to this week, their Instagram feeds have been flooded with NOVAdance-related dares, dance challenges and more. 
"The coronavirus was a wake up call that NOVAdance is much more than the dance marathon," junior Allison Porzio, NOVAdance 2020 Entertianment Chair, said. "The heroes are battling cancer all the time, not just each spring."
Although the 'finale' of the year-long NOVAdance initiative happens every spring, NOVAdance and the B+ Foundation send checks to families every Friday throughout the year. This money helps cover medical costs, rent or anything else the families may need. 
NOVAdance has come a long way from raising $68,000 in 2014, and it will only continue to grow in the future. When the University community works together, amazing things can happen.