Student Podcast Feature: "Talking in Zig Zags"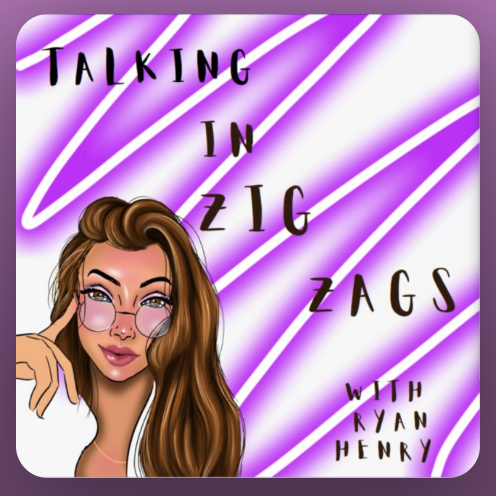 "I have no structure and neither do these podcasts," junior and softball player Ryan Henry wrote in the Spotify bio of her new podcast, "Talking in Zig Zags," but what she lacks in structure, she makes up for in fascinating content.
Bored during quarantine, Henry began to start up her podcast as school approached this summer. She began "Talking in Zig Zags" just over a month ago, during the first week of September.
Henry already racks up an average of 100 listens for each of her weekly episodes, and she has over 100 followers on her promotional Instagram account @talking.in.zig.zags, which previews episodes. Each episode has a special guest and a guiding topic, but the conversations end up all over the place.
Some of the guests didn't even know Henry beforehand, but found her Instagram account and initiated an interview. All the guests have been very forthcoming, and some of the conversations have lasted until the early hours of the morning.
"I just have one question which is: what's your story? And then we get going," Henry said of her conversations with guests.
The name "Talking in Zig Zags" came from an interaction she had with her personal lifting coach, who said she "talks in zig zags."
"My head is like a pinball machine," Henry said.
There is one common motif in this podcast: purple. Henry's favorite color is purple, as she finds it calming and fun. She wears a purple blazer to most of these podcast sessions, and the logo of "Talking in Zig Zags" is purple.
The logo was designed by an artist on Etsy named Kassy Veronica, who draws faces. Henry loved the logo.
"Wait, this is prettier than me," Henry said. "I'm catfishing people."
As of Oct. 11, 2020, four episodes of "Talking in Zig Zags" have been released. 
In the first episode, Henry introduces herself and the podcast. In the second episode, "A Godly Call to Comedy," Henry speaks to Alex Bowman, a political cartoonist and a founder and host of Georgetown University's "The Hilltop Show." The two discuss their "comedic coming of ages stories, controversies and love for late night television." In the third episode, "Readings & Religion & Romance, Oh My!", Henry speaks with her close friend Sydnee Paige, a spiritual counselor who went viral on TikTok this year, about dogs, religion and gender norms. In the fourth episode, "COVID is Crashing the College Experience," Henry talks with Tinah Ogalo, host of the podcast @inyourtwentys, about how college students are handling COVID-19. 
Most of the interviews are entirely raw, uninterrupted soundbites and footage. Recently, Henry had to go back and edit an interview a bit because it went too in depth and far past the desired one-hour mark. 
"You have to pay for my therapy sessions to be released," Henry joked.
In the future, Henry plans to interview some University students, like Simon Brooks and Luke Pastori. She also plans to make some solo episodes.
The podcast is currently available on Spotify and Anchor. Anchor hosts the podcasts on numerous other websites as well. Henry has plans to expand her podcast distribution even further and is working on a YouTube account for it. With stand-up basically nonexistent in 2020, this is Henry's outlet for performing and for content creation. 
This is not Henry's first time making a podcast. She originally had a podcast called "The Meaning of Life and Common Sense Things," which she recorded from January to March of 2020. In this podcast, she sought to find meaning in life amidst trying times, although, she sees "Talking in Zig Zags" as superior.
Henry also has extensive experience performing. She is pursuing a communication major with a specialization in Performance Studies and a theater minor. She also does stand-up comedy and works as an intern for the renowned Gotham Comedy Club in New York City. Henry's long-term goal is to host a show on camera.
Of all these experiences, running this podcast has been a more time-consuming endeavor. Henry has been spending upwards of six to eight hours each week managing this podcast, but she loves almost every bit of it. She runs all of her own social media accounts, and she makes the graphics for the show.
"I'm a one man band," Henry said. "Sometimes, I wish I had an intern."
Henry has a few words of advice for those that wish to start a podcast themselves:
1. Listen to podcasts, but don't replicate them. Have your own style. Henry loves to listen to all sorts of podcasts when she goes out for a walk, like The New York Times' "The Daily" and a two minute daily podcast about Zodiac signs. She also draws inspiration from comedians, like Jerry Seinfeld, and the comedy shows she watched growing up, such as The Daily Show and The Colbert Report, yet Henry always had a unique style — open and raw.
2. Know what story you want to tell. Henry has some clear goals with her podcast episodes. She wants to have fun, and she wants to provide listeners with calmness and relaxation as they unwind and listen to her engaging conversations. 
3. Your setup doesn't need to be perfect. Just put your mind to it. "Everyone thinks you need a $500 microphone, but you don't," Henry said. She uses a $15 microphone that she bought off Amazon, conducts her interviews via Zoom and records using GarageBand, which comes free with Apple products. To Henry, the best way to make a great podcast is to put your mind to it and work with what you have.