Villanova Student Theatre Presents "Pride and Prejudice"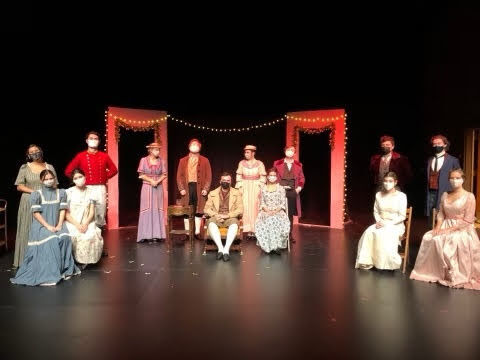 Kylie Horan Staff Writer
November 4, 2020
"We invite you to sit back, relax and enjoy Villanova Student Theatre's production of Jon Jory's adaptation of Jane Austen's masterful work, 'Pride and Prejudice,'" Daniel Gorman said, standing tall and smiling broadly in his costume as Mr. Charles Bingley. 
A buzzing excitement was palpable as stagehands and actors alike prepared for one of the greatest romances of all time to commence. 
One of Austen's most popular novels, "Pride and Prejudice," tells the story of Elizabeth Bennet, one of five Bennet sisters and daughter of a country gentleman, and her turbulent relationship with Fitzwilliam Darcy, a wealthy and proud aristocrat. Austen's wit and eloquence deftly navigates complicated feelings and paints a clever, warm and timeless story of love between family, between lovers and between the reader and the characters. 
Jory's adaptation brings the Bennet family onto the stage, flanked by a bare bones set, and it breaks the fourth wall with characters speaking directly to the audience, effectively condensing the book without losing any of its charms.
Portraying a story as beloved as "Pride and Prejudice" on stage is a daunting task in itself. Adding in accents, period-appropriate costumes and a troupe of actors who double as full time students during a global pandemic, director Grace Metzger appeared to face the impossible. 
Villanova Student Theater (VST) performed "Pride and Prejudice" at The Smith Lab in The John and Joan Mullen Center for the Performing Arts on Oct. 30 at 8 p.m., Oct. 31 at 2 p.m. and Nov. 1 at 2 p.m. Performances were viewable to the student body via livestream.
Metzger and her stage manager and right hand, Haseeb Waseem, adapted changing circumstances: rehearsing nights in Mendel Field, choreographing elaborate balls where dancers do not touch and creating a palpable atmosphere of love without relying on a show-stopping kiss.
"These days, I think a lot about what it means to connect with the people around you," Metzger said. "Trying to convey connections and relationships on stage while distancing and wearing masks provokes a lot of questions, to say the least. I'm encouraged to know that themes about family and love can still come across so clearly even without the element of physical closeness." 
Indeed, the connections and feelings between characters came across clear as day, which is a testament to the talents of the cast. With half of their faces obscured by masks, carefully chosen by props master Victoria Bock, the actors had to rely solely on their eyes, intonation and body language to tell the story. 
The chemistry between Emily Monaco's whip-smart Elizabeth Bennet and Cristian Rodriguez's Mr. Darcy filled the black box theater with both fire and sweetness. The duo traded witty, flirtatious banter as they circled each other, dancing across the stage, romantically-lit by Kylie Horan. Their love, passion and angst were complemented by the darling courtship of Annika Soderfelt as Jane Bennet and the aforementioned Gorman as Mr. Bingley. The soft pink of Jane's dress and navy blue of Mr. Bingley's suit were immediately recognizable no matter where they stood on stage, one of many masterful decisions made by costume designer Lily Nguyen. Shy, innocent and butterflies-worthy, the love portrayed between Jane and Bingley would make anyone wish for love at first sight among twirling satin skirts and bottles of champagne to a score designed by Matt Specht. 
Hannah Packard's hysterically socially-inept Mrs. Bennet provided well-timed comedic relief, especially when coupled with Jake Metzger's outrageously superlicious Mr. Collins. Reigned in by Ryan Wolfe's spent, dry-humored Mr. Bennet and Kaylan Purisima's demure Charlotte Lucas, these dichotomous couples come equipped with quippy one-liners sure to leave the audience cackling. 
Particularly noteworthy were roommates Elise Hall and Danielle Smith as the youngest Bennet girls, Lydia and Kitty. Bratty, nagging and somehow likeable, they perfectly captured the dynamic between the sisters through giggles, smacks and competition for the attention of regimental soldiers such as George Wickham. 
Charming, mysterious and dangerous, Mikey Pacitti's portrayal of Wickham, the original bad boy, both enraptured and burned as he strutted the stage in his red jacket. Colonel Fitzwilliam, portrayed sweetly and amicably by Ben Fickinger, helped to take the bad taste for the regiment out of one's mouth after the unspeakable acts of Wickham. Amanda Atkinson's Lady Catharine de Burgh and Cammie Norman's Caroline Bingley were perfect villains. Snooty, rude, well-dressed and scathing, these ladies chilled the audience to the bone with snidely delivered digs and mic-drop moments, curling sly smiles as they watched our heroes panic. 
The eclectic cast of characters was tied together with the deep bond of persevering through incredible circumstances and the deep love between the actors.