New Year Fashion Trend Report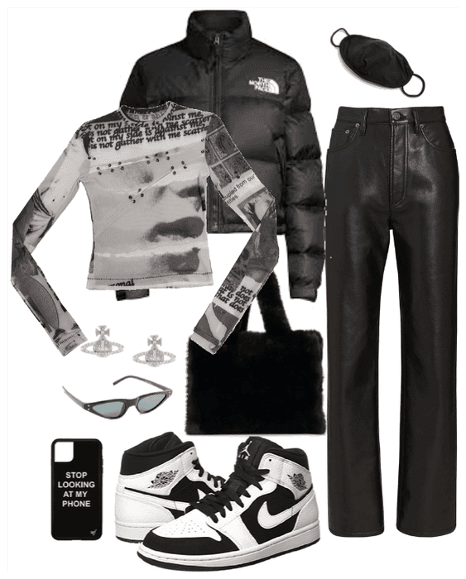 During the past year, so many trends have been created and reintroduced in the fashion world. Athleisure is at peak necessity, 90s fashion trends are making a comeback and unconventional styles or fabrics are taking over thanks to various Gen Z fashion icons. As 2020 comes to a close, let's look at some trends that made it big this year and what to expect in the fashion world in 2021. 
This year, the basic graphic tee was given a whole new meaning because of the stay-at-home order established in March. Everyone was (and still is) wearing basic tees and sweats because when staying at home all day; what's the point in dressing up? Some graphic tees that I loved seeing this year included oversized band tees, cropped baby tees, and Y2K-style fitted tees. Realisation Par makes great baby tees with fun prints. I also love singer/songwriter Jesse Jo Stark's merchandise featuring the oversized 'Deadly Doll' tee from her hit single. This year, I found great Y2K-style tops on Depop and at various thrift stores. In 2021, I expect to see graphic tees staying popular, however I also think mesh tops will rise in popularity. This trend is inspired by the iconic brand Jean Paul Gaultier and its unconventional and somewhat risqué designs. This is a style I personally want to try in the new year. 
Printed pants (or fun pants, as I like to call them) have been very popular over the last few months, and for good reason. Wearing pants other than plain denim jeans or solid trousers can elevate any look. Paired with a solid color top and almost any shoes, these types of pants can make you look and feel trendy. A quick Google search for printed or fun pants can lead you to a number of online shops to find the perfect pair. However, I find thrift shopping to be the best way to find fun pants. A fun pants trend I think will be particularly popular in the new year is glitter pants. I think glitter will make its way into street style trends through pants, tops, or even bags. Baun Studio is a Denmark-based small business that makes beautiful glitter bottoms that could totally enhance your wardrobe. This is a trend I really hope to see in the new year. Glitter might be seen as a fashion risk to some, but with the right outfit I think it could look great.
Statement coats have also increased in popularity during the cold weather months of this year. A statement coat could be anything from a fur trimmed jacket (faux, of course), to a vinyl trench coat. These types of coats perfectly complement a warm winter look. In my experience, the best way to find quality statement coats is through thrifting. Visit your local thrift shop, search on Depop, or even check out eBay for cool coats to top off your winter looks. My statement coat inspiration is the Saks Potts shearling-trimmed leather coat, a long leather coat with fur at the collar and wrists. When I shop online or go thrifting, I look for coats of this style; unique, different, and completely one-of-a-kind. The new year will be a great time to search for coats that will make you stand out from everyone else. 
Lastly, the mini bag or baguette bag trend has really taken off as a strong trend over the past year. The trend will certainly continue, as a little bag is the perfect accessory to complete a look. Fuzzy bags have also risen in popularity, and I think they'll continue to be hot items in the new year. My favorite mini fuzzy bag is the First Kiss Dream Lover Bag from the online brand Petals and Peacocks. It's the perfect size to hold your phone and wallet. Along with Petals and Peacocks, the online shop Lolita Jade also makes these adorable fuzzy bags. The site is run by California-native Lola Keyser who began making the bags during the early months of quarantine. Lolita Jade bags come in a variety of sizes to store all of your essentials. These fuzzy handbags also come in fun patterns that can elevate a more subdued look.
In addition to these suggestions, some other shops that I would recommend for new year fashion would be O-Mighty, Glassons, Weekday Official, Bershka, ASOS, and any thrift shop. My personal favorite out of those stores is O-Mighty. It's an online brand that offers a lot of fun styles. Their tops section is diverse and features cool graphic tanks and tees to wear with sweatpants or jeans. O-Mighty is also a great place to shop for printed pants. Glassons, Weekday, and Bershka are great shops for solid tops or bottoms. Lastly ASOS is a great site to find shoes or other wardrobe essentials. 
The new year presents us with 12 new months of opportunity to take fashion risks and try new things. While the pandemic has ceased the functioning of normal life indefinitely, there's nothing wrong with more impromptu fashion shows for your family unit and black-tie take-out dinner parties with your closest friends. I hope the new year encourages you to experiment with your style. I know I'm excited to see what trends take over in the coming months.