Stepping Through the New Year: A Shoe Guide for 2021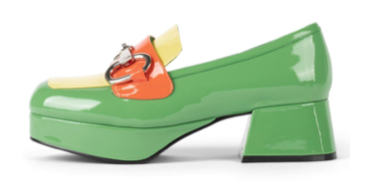 Fashion isn't just about clothing. This year, why not enhance your personal style with a fresh pair of shoes? Many brands are releasing great shoes for 2021, and some popular sneaker brands have a slew of styles that are set to drop during the coming months. 
 One of my personal favorite shoe brands is Jeffrey Campbell. Although little is known about Campbell himself, the designer's shoes are a clear indication that he is not too far removed from the modern fashion world. The Jeffrey Campbell label has been around for about two decades, however its popularity skyrocketed in 2010 with the release of the "Lita Pump." Now, Jeffrey Campbell shoes are staples in the collections of those who love unique shoes. Because of internet sensation Emma Chamberlain, Jeffrey Campbell shoes have regained popularity with the "Student-2" platform loafer. Although these shoes are almost completely sold out, there are so many other Jeffrey Campbell styles that are guaranteed to intrigue. The "Quavo" boots are my personal favorites on the website, but there are a handful of other shoes that will spark one's interest.
 Another shoe trend that has spiked in popularity this year is platform boots, which come in so many different styles. These types of boots are all over Pinterest, and many fashion Tik Tokers consistently make videos about their appeal. Both knee-high platform boots and ankle platforms are quite stylish when paired with the right outfit. One brand that is great for platform shoes is LAMODA. The website features so many platform styles, including the iconic "Candyfloss Love Knee High Platform Boots." These platforms are black with pink hearts scattered on the boot and the heel. While they would have been perfect for Valentine's Day, there is no harm in showing some love during the rest of the year. The LAMODA website features many other styles that are great for any occasion.
 Sneakers are an everyday shoe that are essential for everyone's closet. In the next coming weeks and months, there are some exciting sneaker drops people should keep an eye out for. On Feb. 25, Nike's Air Force 1 Low "Rose" are dropping. These are similar to the classic Air Force 1 that almost every Villanova student has. However, they have a unique rose detailing on the side. According to "House of Heat," a well-known sneaker website, these Air Force 1s are a play on the famous bodega shopping bags. The insole of the shoes features a face with an iconic Nike swoosh smile, and the classic bodega bag words "Have a Nice Day." On the tongue, the word Nike repeats just like the words "Thank You" repeat on a plastic shopping bag. These shoes will sell for $110 and will be available in colors white and pink foam. 
 "House of Heat" is a great resource for staying up to date with the latest sneaker drops. The site features a wide variety of shoe brands aside from Nike, including Yeezy, Adidas, Converse and others. One drop that I am looking forward to is the Air Jordan 1 High OG "University Blue." These shoes are set to drop on March 6, and they are quite similar to the "UNC Toe" Jordans that were released in 2019. The difference is that the "University Blue" colorway has a more baby blue tone compared to the more cerulean "UNC Toe."
 Along with the Jordan drops of 2021, Nike recently announced a floral collection set to release in the coming months. This collection will feature two versions of the Blazer Mid shoe. The first, called "Indigo," is a white sneaker with a light blue swoosh, an embroidered plant on the side and a cork heel tab, according to Footwear News. The next shoe is called "Catechu," which will be similar to "Indigo" as a white sneaker, but the swoosh is a salmon pink tone. An embroidered plant is on the side of the heel and cork is added to the heel tab and tongue tab. These highly anticipated sneakers have not been given a drop date yet, but it is likely that once released, they will be very hard to come by. 
 While it is great to shop for shoes that will make heads turn while walking through campus, the reality is that students don't leave their rooms too often because of the pandemic. With this in mind, a great option is to look for slippers. There are a lot of shoe companies that make slippers, however personal favorites are slippers from the brand Madewell. The "Quilted Scuff Slippers" are both comfortable and stylish. For men's slippers, Minnetonka is a great place to shop. The "Genuine Shearling Lined Ankle Boot" will keep one's feet warm while walking around a dorm room or even outside to pick up takeout. One pair of slippers that is particularly interesting this year is the "Smiley Home Slippers" from Yellow the Label. These slippers have a cute embroidered smiley face on the top, guaranteed to brighten one's mood. 
 Shoes are essential items to each wardrobe. They can easily dress up or down any look, so take advantage of new styles and be ready for drop dates.