Villanova TikTok Star Drops New Podcast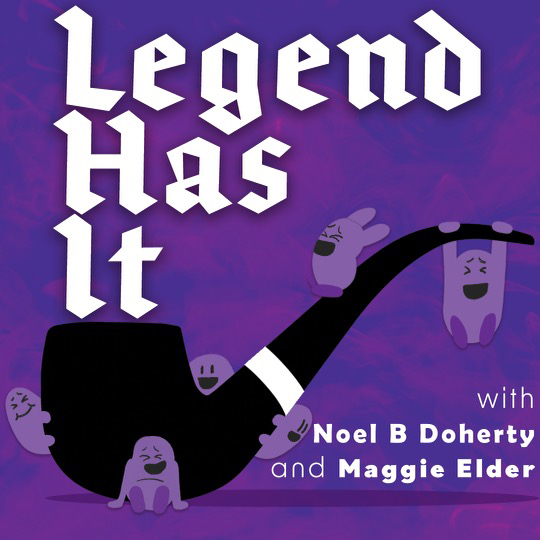 You have heard of Noel B Askin. Now, get ready for Noel B Podcasting. Whether he is knocking on doors to tour dorm rooms or interviewing students passing by the Oreo, sophomore Noel B Doherty always seems to be creating new project ideas. So, when he recently announced the launch of his new podcast, students and fans alike responded with much-anticipated excitement.
The podcast is called "Legend Has It" and is co-hosted by Doherty and his longtime best friend Maggie Elder, a sophomore at Penn State University. According to Doherty, "Legend Has It" is unlike any project he has done in the past. 
"The concept is improv storytelling, which is something that no one is really doing right now in social media," Doherty said. "It's the world's most improvised podcast, and I love it."
The podcast was Doherty's summer project. After he wrapped up filming other projects around the country, Doherty had some time to relax at home before the start of the new semester. Doherty shared that he had been thinking about the idea of starting a podcast for about six months, and he called on his best friend Elder to help him officially execute the idea. Without a plan for the podcast, the co-hosts just started by filming an informal, improv-style conversation. 
"We didn't even really plan for this to be the genre of the podcast," Doherty said. "We just sat down and were like 'Hey what if we started a podcast?' and we naturally fell into this goofy, storytelling format. We ended up talking for 45 minutes doing these goofy stories." 
According to Doherty, recording content for the podcast came easy to both hosts, because it is just an extension of the unique friendship that they already have.
"It [the podcast] is inspired by the dynamic of our relationship that we already have," Doherty said. "We are both really goofy and imaginative people, and we wanted to share that with the world. It's something we would have been doing anyway, but now we're recording it."
So far, the pair have pre-filmed all 16 episodes of the first season of the podcast, with new episodes scheduled to be released every week until right around Thanksgiving. Four episodes have been released so far. Each episode has a complex yet comedic storyline that could include references to anything from pop culture to ancient fairytales and the bible. 
"Each episode is special," Doherty said. "Sometimes we have two parallel stories going on, or sometimes Maggie and I are the main characters in the story, or sometimes there are fictional characters or celebrities that are doing weird things. The only thing you can expect is for it to be unpredictable." 
In the past few episodes, Doherty and Elder have teased the idea of hosting actress Drew Barrymore in the future. As far as special guests, Doherty doesn't see them as a necessity for his podcast at the moment. 
"A lot of podcasts are centered on guests, but we decided to go with no special guests for the whole first season, besides Drew Barrymore of course," he said.
So, will Barrymore ever actually make an appearance on the "Legend Has It" podcast? Students will have to stay tuned to find out. "Legend Has It" airs a new episode every Thursday at 7 p.m. and is currently available on Tik Tok, Instagram, YouTube and Spotify.