Augustinians of Villanova: Father Joe Ryan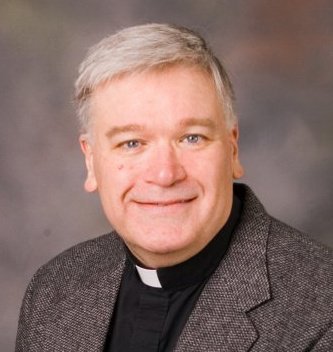 "In addition to my teaching responsibilities, I really enjoy providing sacramental ministry to the students on campus," said Rev. Joseph G. Ryan, O.S.A., PhD. "It is such a wonderful opportunity to teach students here at Villanova."
This week, Fr. Joe offers Villanovans a glimpse into his life as an Augustinian at Villanova University in the Augustinians of Villanova Column.
Although Fr. Joe was born in the Bronx, he and his four siblings grew up in Wethersfield, Connecticut in a strong, Roman Catholic household. Both his parents were involved in the medical field: his dad, a doctor in private practice, and his mom, a nurse.
After graduating from a co-ed Catholic high school in Hartford, Connecticut, Fr. Joe attended the Catholic University of America. Given his lifelong passion for current events and international diplomacy, Fr. Joe graduated with a B.A. degree in World Politics in 1979.
Right out of college, Fr. Joe worked for Virginia National Bank as a loan officer for two years. However, the Order of St. Augustine and his lifelong interest in joining religious life inspired him to enter the Pre-Novitiate program in the fall of 1981. Two years later, Fr. Joe took his first vows, committed to a life devoted to God. In 1986, he took his solemn vows with the intention to follow Jesus Christ more closely among the Augustinian brothers.
In 1987, Fr. Joe not only studied Theology at the Washington Theological Union, earning a master's degree, but he was also ordained first to the diaconate. In the fall of 1987, Fr. Joe was then ordained to the priesthood. 
"To become an Augustinian priest, first you take your solemn vows, and then you are ordained to the diaconate," Fr. Joe said. "As a deacon, I was able to preach, baptize and preside over weddings. Once I was ordained into the priesthood, I then heard confessions and offered mass."
On Nov. 28, 1987, Fr. Joe was ordained to the priesthood in his hometown parish in Wethersfield, Connecticut. 
"It was so special for me and my family," Fr. Joe said. "All the priests and friends I grew up with came to my ordination. I remember that day fondly."
Once Fr. Joe was ordained into the priesthood, he was first assigned to the St. Nicholas of Tolentine parish in Queens, New York where he oversaw all parish functions, particularly in offering spiritual aid to immigrants and first responders. In 1989, Fr. Joe went on to study for his Ph.D. in American History at American University in Washington, D. C.
In the fall of 1997, Fr. Joe began teaching at Villanova's Department of History as an Associate Teaching Professor. Given his lifelong desire to become a priest-professor like the ones who taught him at Catholic University, this position was a dream come true.
"I really enjoy my role as an Associate Teaching Professor," Fr. Joe said. "I teach a variety of history courses. My specialty field is the history of medicine."
Given that Fr. Joe grew up in a household with two parents who worked in the medical field, he always felt called to study the history of medicine. As an Associate Teaching Professor in the Department of History, Fr. Joe enjoys helping students find success in the field beyond the classroom. 
"I take my students on field trips to Washington, D.C., Ellis Island and museums in the Philadelphia area," Fr. Joe said. "I rejoice in my students' success. I take them to annual history conferences to present their papers for awards."
Fr. Joe is also the Faculty Advisor for the Tau Phi Chapter of the Phi Alpha Theta History Honor Society. Every November, Fr. Joe organizes a Sunday Mass in Corr Hall followed by a brunch at the Overbrook Golf Club for inductees to celebrate their accomplishments alongside family and friends. 
For those interested in seeking to join religious life, Fr. Joe offers invaluable advice.
"Develop a spiritual relationship with Jesus Christ through daily prayer, attend mass frequently, attend Eucharistic Adoration and be active in Campus Ministry's activities," Fr. Joe said. "Find a confessor or spiritual director who can guide you in discovering your vocation. Fr. Joe Narog, O.S.A. is the current Augustinian Vocation Director, and he would be happy to get you started in exploring your vocation."
Lastly, Fr. Joe is a federally licensed ham radio operator, but due to his extensive teaching, advising and pastoral responsibilities, he is currently inactive.
"I like to send morse code, but I am inactive because I don't have room in the Monastery to put up a large short-wave antenna," Fr. Joe said. "My real hobby is advancing the cause of my students."
Once a week, Fr. Joe celebrates 5:30 p.m. Mass in Corr Hall. He also hears students' confessions, leads Eucharistic Adoration and witnesses student weddings at St. Thomas of Villanova Church. After 24 years, Fr. Joe looks forward to continuing to celebrate mass and hear confessions for those at St. Matthew's Catholic Church in Conshohocken on weekends.