How to Stay Sane During Lockdown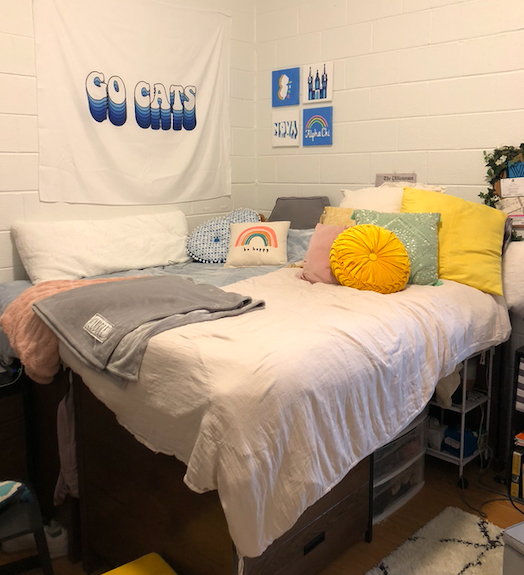 Following an alarming spike in COVID-19 cases during the two weeks back on campus, the Office of the President issued a series of student directives to be adhered to over a two-week lockdown period in an effort to slow the spread. 
"Outside of instruction and essential purposes, students must stay in their own residence to the greatest extent possible and curtail in-person interactions with others outside their own room, apartment or household," said University President Rev. Peter M. Donohue, O.S.A., Ph.D. 
Students are allowed outdoors only to "eat, exercise and get fresh air while remaining physically distant from others."
While this call to action was absolutely necessary and in the best interest of every member of the Villanova community, it has definitely left students wondering how they will entertain themselves during the next two weeks, cooped up inside their rooms with their roommate(s) and unable to mingle with their typical close contact circle. Have no fear, The Villanovan is here to provide a compilation of fun, COVID-19-safe activities to get you through this time while we all reset and get back on track.
Movie Marathon: What better time to catch up on all the movies you have been wanting to watch but "haven't had the time?" See The Villanovan's Valentine's Day RomCom Picks for an elite lineup of seasonal favorites. 
Spa Night: This semester has been stressful already. You deserve to take a deep breath and give yourself a break. Break out the face masks (or make a DIY batch), nail polish, essential oils and indulge in some "me time." 
Get Crafty: Arts and crafts aren't just for little kids. Adult coloring books have been proven to have incredible benefits on mental health, as well as other crafts like making vision boards, collaging, painting and so much more. We may be on shut down mode, but Amazon Prime isn't.
Revamp your room: What better time to make new DIY dorm decor, move some furniture around or reorganize your desk drawers? The options are endless, and you'll leave these two weeks feeling so fresh and new. For a fun twist, push you and your roommate's beds together for an ultimate megabed experience (perfect for movie night). 
Food: If you have a kitchen, it's time to get cooking and unleash your inner chef. The Villanovan Cookbook Series has tons of fun, easy and delicious recipes for you and your roommate to whip up together. Or, if you're cooped up in a traditional dorm, order some Good Uncle or DoorDash from your favorite local business to spice up your week. Food heals everything. 
Take a walk: Don't forget that you need fresh air. While maintaining social distance, take a stroll around campus or in the surrounding area for some endorphins and a mental health boost. See The Villanovan's website for a previous article on the best walking routes around campus. 
Facetime: While we may all be apart, it is so important to stay connected. This is the perfect time to call your grandma and catch up or set up a Zoom with your friends across campus. It's guaranteed to lighten your mood and remind you what we're doing all of this for. Zoom theme nights are a fun way to spice things up (did someone say Galentine's Day mocktail night?) 
Other ideas include getting ahead on schoolwork (boring), practicing hair and makeup looks for when we can go out again, catching up on some books you've been wanting to read but pushing off and so much more. Whatever you do in these two weeks, remember to keep your connection with others to avoid feeling isolated. Villanova's Counseling Center is offering telehealth appointments, and its helplines are on the website. Hang in there, Wildcats. We've got this.