Book of the Week: "It Ends With Us" by Colleen Hoover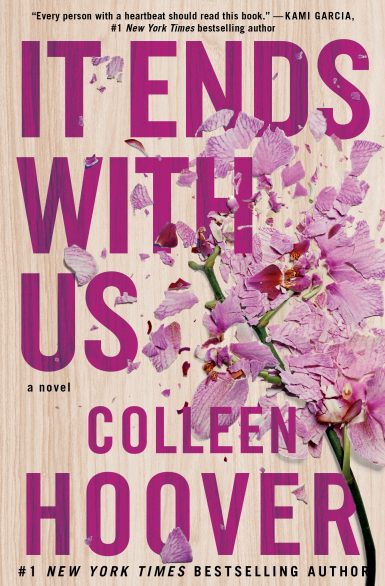 If you are like me and are on "BookTok," the book side of TikTok, then you have heard of Colleen Hoover and her novel, "It Ends With Us." 
Released in 2016, Hoover's "It Ends With Us" was an instant hit. Those who follow Hoover know of her heartbreaking, yet beautiful writing. "It Ends With Us" was no different and was arguably one of the more heart wrenching of her books thus far.
The book, already popular, soared with its explosion on TikTok, as people were posting their reactions to the book. There were videos of readers crying as they read and sharing their love for the novel in many forms. Even Hoover herself has taken to TikTok and has popularized herself as an author, gaining a large audience of readers worldwide.
"It Ends With Us" follows Lily Bloom, both as a teenager living with her parents and as an adult living in Boston. Lily did not have the easiest upbringing, but she is nonetheless one of the strongest, most determined and relatable characters I have ever read. She is the type of character that a reader roots for from start to finish. Readers will find themselves crying when she cries, smiling at her triumphs and holding their breaths in her trying moments. 
It is not only two parts of Lily's chronological life that are told in the book, but also two love stories, one in the past and one in the present. They intertwine in an intense, yet alluring way. Atlas Corrigan is the boy from Lily's past who shapes her life in an undeniable way. Ryle Kincaid is the new man in Lily's life, who takes her by surprise. Although a love story, this book is more of a nontraditional romance that depicts love in a unique way. 
The book explores sensitive topics that may be triggering for some readers, but it is also relatable. Many will find that they themselves have had similar experiences to those of Lily's and even had similar thoughts and feelings, which is what makes this book so compelling. 
Hoover has admitted that "It Ends With Us" mirrors experiences from her own life, which is one of the aspects that makes her writing so profound and real. This book will stay with readers long after finishing it because it grips onto one's heart and somehow warms it simultaneously. In just 384 pages, Hoover shows us that love does not look the same for everyone. Sometimes, the one who loves you the most is also the one that hurts you the most.