Villanova Campus Ministry Holiday Initiatives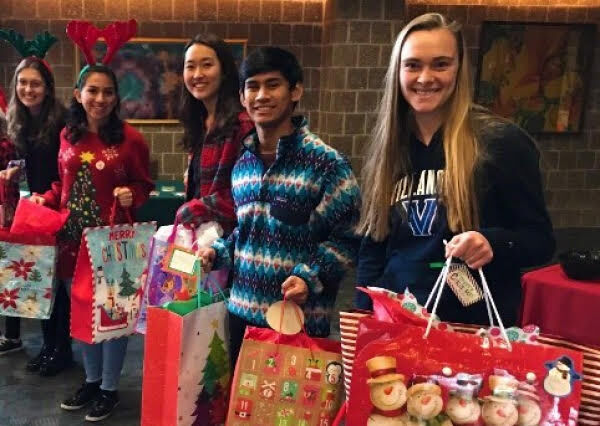 If Santa Claus teaches the world anything, it is that there is more to Christmas than presents. This might seem controversial, but at the center of everything, Saint Nick is all about giving from the heart. Villanova's Campus Ministry does the same.
Campus Ministry is responsible for many of the community volunteering programs on campus. Two of the most popular are the RUIBAL and COV.
RUIBAL, or Reaching Urban Individuals By Action and Love, is a freshmen-only weekly service opportunity in which students go to schools across the Philadelphia area to help children with homework, build relationships and plan activities. 
An extension of this program is Community Outreach of Villanova, or COV, which is another weekly volunteer program that sends students to schools, soup kitchens, nursing homes, adult English language classes, family shelters and more. 
Each week, these clubs send about 300 volunteers out to serve in local communities.
When it comes to the holidays, Campus Ministry organizes initiatives to help those in need. This Thanksgiving, the department had its annual Thanksgiving Drive, helping to gather and deliver Thanksgiving meals to families over the holiday weekend. In total, 325 families received donations. 
Megan Dietzler, Campus Minister for Local Service, spoke on the Thanksgiving Drive. 
"We had volunteers taking them out to the different sites," Dietzler said. "Some of us were on the ground at the different sites to help distribute them."
One of those volunteers was two-year COV volunteer Paisley Hahn.
"This year, I volunteered with the Thanksgiving Outreach by helping pack Thanksgiving meal boxes at Villanova and then distribute them to North Light Community Center," Hahn said. "It was incredible to see the amount of Villanova support in terms of food donations for the drive. Helping to deliver this food allowed me to directly see where it was going and who was benefiting from it.
As for Campus Ministry activities during the current holiday season, the "Spread the Spirit" campaign is underway. 
For this Christmas initiative, Campus Ministry works closely with North Light Community Center, a community institute in Manayunk and a primary service location for students.  
"We always have Villanovans at Northlight," Dietzler said. "There's hundreds of people at Villanova that know and love Northlight."
In fact, the University even has a North Light Villanova Alliance (NOVAL). It is a committee that comes together to support the center, whether it be through providing technology support, business tutorials or marketing help, the alliance is there all year to provide support in any way possible.
During Spread the Spirit, Campus Ministry primarily helps the center by doing an Adopt a Family program. Volunteers who sign up for Adopt a Family receive a family with children's names, ages and Christmas lists. The volunteers then collect money and donations to help designated families in need get the presents they want for Christmas.
According to Dietzler, departments, organizations, athletic teams and even some individuals sign up to help collect gifts for families. 
"That's the nice part," Dietzler said. "It cultivates a community initiative rather than individuals." 
The collected presents are then delivered by sets of Villanova volunteers to the center. Campus Ministry is still accepting volunteers for this task taking place on Dec. 17. 
Dietzler reflected on last year's Adopt a Family drive, which looked a lot different due to COVID-19. Instead of donating gifts, people were asked to donate gift cards. Dietzler remembered being overwhelmed with donations to the point that Campus Ministry was able to give even beyond North Light. Some other sites receiving these donations were Lutheran Settlement Services, Families Forward Shelter, People's Emergency Center, Catholic Social Services, St. Francis Inn and the St. Thomas Aquinas Parish. Because of the success from last year, the gift card donation drive continues for this holiday season. 
Another part of Spread the Spirit is the chance to donate to the Church of New Hope and Faith's Youth Council Toy Drive via their Amazon Wish List. Donations can be made to children of different age groups until Monday, Dec. 20.
As the Villanova community prepares for the end of the semester along with Campus Ministry cultivating donations and volunteers for their Spread the Spirit initiatives, Dietlzer reflected on what that "spirit" truly means for the Villanova community. Campus Ministry's Spread the Spirit campaign holds the true meaning of the season.
"It really is just this positive desire to be a part of something bigger than themselves and think beyond themselves," Dietzler said. "It's the spirit of generosity and awareness of a world beyond their immediate circumstances."
Reflecting on her own experiences being a Villanova Campus Minister, Dietzler also noted the impact the community has had on her holiday cheer. 
"What I've loved, by and large, is that almost all of our volunteers are volunteering their time and their resources out of the goodness of their hearts," Dietzler said. "If you ask them why they are serving, it's because they want to break themselves out of their bubble. They want to remind themselves there is something more important than them and I'm just constantly inspired." 
To attest to that, Hahn shared some words on her favorite reason for volunteering.
"My favorite part of volunteering is seeing how your work is helping others in whatever capacity they may need," Hahn said. "Volunteering is one of the most fulfilling things to do in my opinion."
As the time ticks closer to the holidays and Christmas break, the rippling effects of giving and kindness spread throughout the Villanova community. That spirit is found not just in the gifts themselves, but in the hearts of those who act and choose to give the gifts of time, joy and love for the holiday season.