Hispanic Ministry Hosts Community Dinner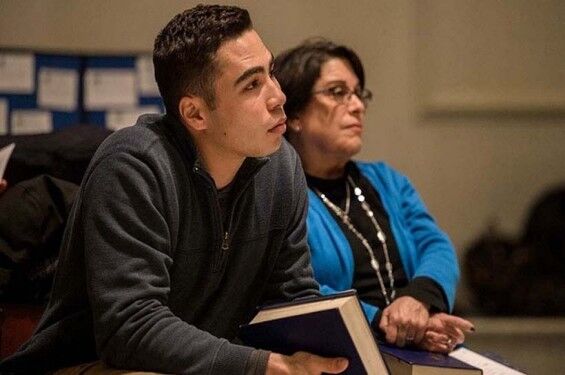 On Saturday, March 13, 2021, Hispanic Ministry hosted its monthly Cena de la Convivencia (Community Dinner) in the Driscoll Tent. La Cena is a time for students to come together and celebrate the rich and unique cultures of Latin America with traditional foods, games, activities, music and dancing. The dinners are typically held on one Saturday evening per month at 6:15 pm, following La Misa en Español (Spanish Mass) which occurs every Saturday at 5:30 P.M. in the Corr Chapel. Bringing together students in the spirit of Unitas, La Cena de Convivencia is a true embodiment of Villanova University's Augustinian tradition.
The featured food at this month's Cena was traditional Salvadoran pupusas, which are corn cakes stuffed with a variety of different food items, including cheese, peppers, meat, and beans. Students were able to choose from an array of options and place orders to be individually wrapped and comprising up to three pupusas. In addition, students had the option to order their pupusas with sides of curtido and/or salsa roja. Curtido is a type of relish that is found in the cuisines of various Central American nations and is typically made with cabbage, red onion, carrots and oregano. Salvadoran Salsa Roja is a tomato-based sauce that is commonly served alongside pupusas.
The main activity at March's Cena was the traditional Mexican game called Lotería. The game is similar to Bingo, but as opposed to a letter followed by a number, boxes on the cards have in them drawings of different objects. The caller will state the name of the object, and players then place a chip in the appropriate box if that object is present on their card. Each card and corresponding box do have a number, but those are often not even utilized. To win a round, a player was required to fill all sixteen boxes on their card. The winners of each round were awarded with various goodies and souvenirs from Campus Ministry.
As always with the Cena, there was Latin music to provide an extra source of happiness and entertainment for all the students. Students were able to safely celebrate being together with their friends as well as the completion of midterm week.
Students often attend the weekly 5:30 pm Spanish Mass before making their way over to the Driscoll Tent for the Cenas; however, everyone is always welcome at the Cenas. The Cenas would not be possible without the admirable work and dedication of the Campus Ministry staff, most notably Ms. Irene Zarate Rivera, Villanova's amazing Campus Minister for Hispanic/Latino/a Ministry and Outreach, and Mr. Victor José Jaimes-Ropaín of the Jesuit Volunteer Corps Philadelphia. There are also many undergraduate students without whom these special community dinners would not be possible, including Ms. Vianney Luna, Ms. Jessica Sardina, Ms. Ana Valentina Wey, Mr. Marco Vázquez, and all those involved with both Hispanic Ministry and ¡Levántate! VU. At this month's Cena, students were also joined for some time by Fr. Arthur Purcaro, O.S.A., and Fr. Aldo Potencio, O.S.A., both celebrants of Villanova's Spanish masses. Overall, the Hispanic Ministry's Cenas de la Convivencia provide such a wonderful opportunity to come together as a community and make new friends while enjoying delicious dishes and exciting activities from around Latin America.