To All the Boys I've Loved Before: Film Series Review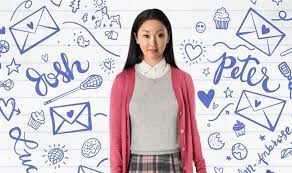 Netflix users are likely familiar with the series "To All the Boys I've Loved Before," as it is a popular Netflix original movie trilogy. When the first film came out in 2018, viewers went wild. It was unique, appealing and a straight up rom-com. As the producers began to create the second and third films, they still reigned in audiences. However, the films did not live up to the hype of the original.
In the first film, "To All the Boys I've Loved Before," main character Lara Jean writes letters to all of the boys she's ever had crushes on and keeps them hidden. But one day, her little sister mails them out to each and every one of the crushes. One crush in particular, Peter Kaminsky, sees Lara Jean's letter and pretends to be her girlfriend. However, the pair ends up falling for one other. The rest of the series shows the progression of their relationship status and Lara Jean's tight-knit family as the couple gets older and graduates high school. Lara Jean's shy personality is brought to light by Peter in a classic rom-com trope. Her passion for writing and ability to express her feelings through her hidden letters is admirable and serves as the foundation of the entire plot.
In the second movie, "To All the Boys I've Loved Before: P.S. I Still Love You" (2020), a boy named John Ambrose connects with Lara Jean years after her crush letter was written to him, and they end up working at the same place. He received the letter when Lara Jean's sister mailed them, and his flirtatious ambition forces her to have doubts about Peter.
In the third film, "To All the Boys I've Loved Before: Always and Forever" (2021), Lara's true love for Peter is renowned. She spends time over in Korea for the first part of the film, and they both start applying to college, discovering that they will be parting ways.
The upbeat music, colorful setting and fashionable clothing in the film is what attracts its young audience. Frequent Netflix watchers have been hooked on these films because of the personable characters, along with elements of emotion, humor and more. Teen romance always sounds appealing to a large audience, even if it may be inherently cheesy.
"Re-reading my letters reminds me how powerful my emotions can be," Lara Jean says in the movie, which is a trait many teens have, trying to find themselves and their interests.
Villanova is known for being a "romantic" university in that many people find true love on campus. One can imagine that many students here would be drawn to this movie given its description and motive. Despite the various opinions many people have on this Netflix original, it is a classic film series embodying young love, fitting its genre like a glove.