University restores club charter to men's rugby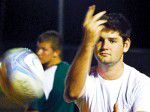 More than a decade after losing its status as a club sport, the Villanova rugby team has regained official sanctioning by the University.
Although a local rugby team composed of Villanova students has existed for the past 14 years, the Villanova Rugby Football Club was not affiliated with the University.
The 2010-'11 academic year marks a new beginning for a sport with a slightly bumpy path at Villanova. 
"Rugby was disassociated from the University as an officially sanctioned club team in the mid-1990s for a number of reasons," Athletic Director Vince Nicastro said.
An article published in The Villanovan in April 2008 cites a 1996 medical incident related to the inherent danger of the sport as a primary reason for the team's disassociation from the University that year.
At the time, national governing bodies for the sport of rugby were in their earliest stages of development. Without a solid means of overseeing the physical safety of players, the risk of sanctioning a rugby team was too great for the University to support.
"The culture surrounding rugby wasn't congruent with a recognized sport program," Nicastro said. According to him, it often reflected poorly on the University's character.
As an unsanctioned team, rugby could no longer officially represent Villanova in competition. Among other privileges, the team was not permitted to practice on school grounds, recruit players on campus or wear the trademarked Villanova 'V' on uniforms or attire.
In recent years, however, members of the team have put forth great effort to restore the team's relationship with the University. According to the aforementioned Villanovan article, University President Rev. Peter Donohue, O.S.A., gave the team permission to practice once again on campus in the spring of 2006, which initiated a new effort to have the team re-recognized as a club sport. 
Current team president Pete Bruno and captains Tom Ciafone and Kevin Tymon, both seniors, credit past players with beginning the process to reinstate the team as a club sport.
"As a team captain now, my role in gaining University recognition is minimal compared to the captains and presidents we've had in the past," Ciafone said."Greg Shipman, Class of '09, and Jon Mayer, Class of '10, were instrumental in getting the University's attention and taking the necessary steps to gain recognition.Also, Father Peter has been very supportive of our efforts, and the Athletic Department has been extremely helpful in making sure we meet all of the necessary requirements."
Qualifications for a team to become officially recognized by the University, according to Nicastro, include submitting an application and demonstrating both "a critical mass of participants" and financial viability, among other requirements.
During his time as president of the Rugby Club, Shipman helped to set the process in motion, writing a 16-page proposal for recognition as a club sport in addition to helping compile a 21-page proposal for the Office of Intramurals and Recreation to review.
"The team really cannot thank [Shipman and Mayer], as well as other alumni, enough for their efforts to get the team on campus," Tymon said.
Thanks to the increasing popularity of rugby at the high school level, Head Coach Lawrence McManus has a current roster of over 70 players, showing an obvious interest in the sport. As head coach of the team for three and a half years, McManus worked with Donohue and Coordinator of Club Sports Tom Schoenauer to assist with the process.
"Working with [Donohue and Schoenauer] has been a total blessing," he said. "To have a point of contact as to where I can ask questions [and] get field support has been awesome."
As a recognized team, rugby can now begin fundraising efforts on campus.
"Students can support us by simply buying a cookie at a bake sale, or wearing their fancy new 'Villanova Rugby' T-shirts that we hope to sell on campus," Tymon said. "Running a rugby team is costly, so we greatly appreciate all of the student support we can get."
While the team's status today is attributed to many years of hard work, the transition of rugby to an official club sport is an ongoing project for the current members of the team.
"Our goal as officers of the club now is to see that our transition into club status goes as smoothly as possible," Tymon said. "We plan on working with the Villanova Athletic Department, the Villanova faculty and staff and our current players and coaches to achieve this goal." 
"It is a privilege to represent this University, so we expect our students and club teams to do so in an appropriate manner," Nicastro said.
Aspirations for the upcoming season include advancing to the national playoffs as an official collegiate program and enjoying the opportunity to play home games on campus in the Villanova stadium.
Both opportunities were not possible without official University recognition. The team's games are scheduled by the Eastern Penn Rugby Union. Prior to University recognition, the team was allowed to compete in the league with teams such as Penn, Drexel and St. Joe's but could not advance to the highest level of playoffs under the Mid-Atlantic Rugby Football Union.
The team also looks forward to the student support they will receive by hosting games on campus.
"We are extremely grateful to the Athletic Department for allowing us to do this in our current season," Tymon said.
The team's first home game will be played against St. Joe's tomorrow at 7:30 p.m. in the Villanova stadium.
"It would be great to have a large turnout from the student body," Ciafone said.
"Three years ago we had no place to play or practice, and now we have a game this Friday in the stadium against our rival, St. Joe's," McManus said. "This is huge."
Tymon and Ciafone have been involved with the rugby team for at least three years and could not be happier to see the team enter a new and exciting chapter in its history during their senior years.
"I cannot tell you how excited I, as well as the rest of my team and the coaches are about playing on campus," Tymon said. "It is a goal we have tried to achieve for a very long time, and to see it come to fruition while I am still an active member of the team is a very exciting thing."