Alumnus and Secret Service acting director, Joseph Clancy, visits campus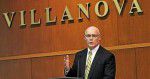 The University was honored to wel- come Philadelphian, University alumnus and Acting Director of the Secret Service Joseph Clancy back to campus for the fifth annual "Spotlight on Leadership" Keynote last week. The Villanovan had the unique opportunity to sit down with the leader of the notoriously low-profile organiza- tion. Clancy, a 27-year veteran of the Secret Service, left Washington in 2011 to work for Comcast's corporate security. Recent contro- versies surrounding the Secret Service have prompted shifts in the organization's leader- ship.
This past September, President Obama called upon Clancy to serve an unanticipated interim term as Acting Director. "I said yes [to the president] because [the Secret Service] is my life's work," Clancy said, adding "if I could add some value I was happy to come back." Clancy added that "I always wanted to get into the Secret Service, even as a young child." He recounted witnessing his family's reaction to JFK's assassination when he was in third grade, and was inspired from that point onward to protect the lives of elected officials. Clancy says his long tenure with the Secret Service has been driven by his com- mitment to the mission of the organization. "It's such a critical mission and protection is number one," Clancy said. "Protection of the White House, and protection of the First Family. Make no mistake about that." Regarding his primary security concern, Clancy said "we worry about everything. Every minute of every day I am concerned that someone out there wants to do harm to the President. I'm concerned about what [the intelligence community] doesn't know about," such as possible individual actors.
Throughout the history of the organiza- tion, protection has remained the "number one" concern, but the mission has become "integrated" with the onset of cybersecurity trepidations. When asked where cybersecu- rity ranks on his list of concerns, Clancy said "people don't realize that [Secret Service] cyber investigations are critical to the finan- cial security of this country." According to Clancy, cyber investigations are critical to Secret Service field office operations. "If the President is travelling and stays in a hotel, could someone go in there, hack, and turn off all the lights in the hotel?" Clancy said.
"Or could they control the elevator banks? The cybersecurity team helps us with our advances," Clancy said. "The protection offi- cers and the cyber team go hand in hand."
The Acting Director strongly believes that Secret Service field offices are the key to successful presidential travel, espe- cially when an overnight stay is involved. "Sometimes you hear individuals ask if we need [field offices and] that investigative mission… We couldn't disagree more," he said. Clancy began his distinguished career in the Philadelphia field office, five years after his graduation from Villanova. Clancy observed that "in this business, you don't get a mulligan. You don't get a do over. If you make a mistake, someone can get injured. There is a lot of pressure."
On Thursday, Feb. 12, the day following the "Spotlight on Leadership" on Villanova's campus, Mr. Clancy was scheduled to testify in front of the House Oversight Committee regarding a blue ribbon panel's recommendations for the Secret Service. The panel was created by congress as a response to the Secret Service's recent security shortcomings. Regarding this, Clancy said "we made some personnel changes recently, and Congress was concerned with some of the leadership in the Secret Service. They wanted to see some fresh per- spectives. I did as well." Regarding the recommendations given by the panel, Clancy said that "we have taken steps to rectify 98 percent of the recommendations by the blue ribbon panel. We take it seri- ously… I think we're moving in the right direction."
Last Thursday would not have been the first time Clancy was called to testify in front of a House Committee since being named Acting Director in October. He takes time to prepare for these engagements in order to represent the Secret Service well. "I want to be sure I am candid and truthful," Clancy said. In the Director's sold out on-campus keynote, he gave a brief history of the Secret Service, elaborated on his experiences as a student, told engaging stories about different presidential admin- istrations and gave a brief expla- nation of "the recent challenges" that have taken place within his organization. He then outlined four key tenets that he finds essen- tial to leadership: perseverance, responsibilty, responsiveness and confidence. Clancy's humble story impressed Villanova students, fac- ulty and visitors during the fifth annual Spotlight on Leadership. His dedication to the organization is evident and impressive.