New proposal offers relief for student loans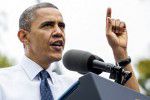 Earlier today, President Barack Obama announced at Georgia Tech the introduction of what has been deemed The Student Aid Bill of Rights. The bill features a series of directives targeted at other federal agencies, most notably the Department of Education, with instructions to aid borrowers in affording their loan payments, with an emphasis on transparency and customer service.
Key features of the package include creating a new website to be unveiled by July of next year by the Department of Education to allow borrowers to file complaints regarding contractors of the Department of Education, establishing a means for students to view a complete compilation of their debt and setting higher standards for loan services regarding the information disclosed to borrowers.
"The principles are simple. I want every student to have access to a quality, affordable education," Obama said on a conference call including Secretary of Education, Arne Duncan, Undersecretary of Education Ted Mitchell and Deputy Director of the Domestic Policy Council James Kvaal, as well as many college media outlets. "We're going to have to do things at the federal level, state level, at the university level to really mobilize the entire country around this issue of college affordability."
Villanova University's average yearly tuition price is $45,376. Add in room and board at $12,278 and the average student is paying $57,654 to attend, a cost roughly equivalent to 8,248 orders of Zilly Fries. Less than half of the full time undergraduate class was awarded financial aid from the University this year, and for many it wasn't enough, making student loans very much a reality on this campus.
In addition, the Obama administration has released compiled information on the number of borrowers and outstanding loan balance of each state. The data ranked Pennsylvania as the fifth highest in number of borrowers (just over 2 million) as well as loan debt (just over $53 billion), following California at $112 billion, Texas at $81 billion, New York at $77 billion and Florida at $53 billion.
 No one wants to be in debt, and for many, this proposal stands as a beacon of hope for those facing sacrifices that can be felt decades after graduation. However, in such an early stage, it is difficult to tell if a series of directives will have more than a nominal effect on students facing this real life burden.
            More information will be provided in a follow up in the March 19 print edition of The Villanovan.