Athlete profile: Wide receiver Kevin Gulyas opens up about life beyond the football stadium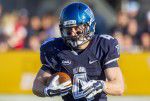 In the midst of spring practice, he wakes up at 6 a.m. He arrives at the locker room by 6:30. He is running by 7. When football practice ends at 10:30, he readies himself for his first class at 11. And he never stops moving until dinner at 6 p.m.
Initial communications with Villanova University junior Kevin Gulyas reveal his agreeable and enthusiastic personality. He replies quickly to text messages and uses frequent exclamation points to emphasize his willingness to accommodate others' busy schedules despite his own.
Gulyas responds to a text requesting an interview in three minutes with an affable, "I'm free this weekend or on Monday so whichever works better for you!"
Sitting down with Gulyas in Jackson Hall on the university's West Campus on the cold, sunny afternoon of March 22 proves no different.
Born in nearby Allentown, Pa., Gulyas' enthusiasm for Villanova and its people manifests itself in everything from his attitude to his apparel.
"I chose Villanova because of the great people and the great coaches," Gulyas says. "They were real welcoming."
Dressed in sneakers, athletic shorts and a white, long-sleeve shirt proudly emblazoned with the words "Villanova Football" in bold blue letters, Gulyas arrives with two of his closest friends and teammates in tow. Holding the door for them, he allows them to sit before doing so himself.
Villanova juniors Austin Calitro, a linebacker and communication major, and Brad Seaton, an offensive lineman and criminology major, eagerly lean forward in their chairs with wide smiles, excited to talk about their friend.
"I love my team, but I love Kevin in particular," Calitro says. "A lot of my teammates strive to be like Kevin."
"What I admire most about him is that he's always happy and just upbeat," Seaton adds. "He's always wanting to give you advice or push you if you had a rough day."
Gulyas, a self-professed extrovert, returns their sentiments. The mere thought of spending time with friends brings a genuine grin to his face and a subtle sparkle to his eyes. Even with daily football practices occupying at least four hours of his time, Gulyas never fails to challenge Calitro and Seaton to Xbox contests.
This dedication also extends to the athletic and academic areas of Gulyas' life. 
A proponent of making plans and setting goals, he feels most secure when his future is mapped out, especially because uncertainty often concerns him.
"It gives you a sense of comfort and pride that you took on a goal and achieved it," Gulyas explains.
One goal he has set and achieved is helping the Villanova football team to play as well as possible. Gulyas considers being a reliable wide receiver and contributing to the team's successful 2014 season two of his proudest achievements.
Gulyas steadfastly maintains his cheerful, easygoing outlook despite the demands his goals place upon him.
"Football is just a game, and you should have fun doing it," Gulyas says. "I'm a happy person. I'm just surrounded by great people and great friends."
As he alternates between describing his daily routine and relaying the stories that most make him laugh, Gulyas embodies the hardworking, motivated and funny individual he strives to be. And Calitro and Seaton agree. They nod constantly while Gulyas talks, seconding his characterization of himself.
Although Gulyas regrets not befriending more of his classmates as a freshman, he has expanded his circle of friends in the past two years, a development attributable in part to his sense of humor.
"I try to be funny," Gulyas concedes with a downward glance and sheepish shrug of his shoulders. "I don't know if I am." 
Unintentionally demonstrating this endearing mix of humor and self-consciousness, he lets slip that he values his phone more than any other possession. 
Realizing his admission sounds trite, Gulyas reddens slightly and defends its honesty by adding that he would willingly sacrifice his own life to save his phone.
Yet, while Gulyas embraces his funny side, he does not shy away from addressing serious topics.
Despite uncertainties about finding a job and starting a family after graduation, Gulyas remains confident that the future is as bright as the lights he plays beneath.
"It's not about achievements or what I did on the field," Gulyas says. "I just hope at the end of my life people remember me as a good person."
And with his relaxed personality and optimistic perspective, such a life is already rushing toward him. All Gulyas has to do is reach out with open arms and, like the standout wide receiver he is, catch it.