Class of 2019 Already Breaking Records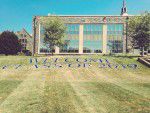 On Aug. 20 Villanova packed South and Southwest campus with a record number of young Wildcats, welcoming 1,695 freshmen to campus. 
"Our goal was to have 1,670 freshmen join our campus community this year," said Michael Gaynor, Director of Admissions. "We were very fortunate to receive the largest applicant pool in our University's history, a record 16,198."
To put things in perspective, the class of 2013 was 1,659, and 1,668 freshmen called South campus home the fall of 2014. "Even though our acceptance rate was lower than last year, as a result of Villanova's popularity, we experienced an increase in those admitted students who chose to join the Nova Nation," Gaynor explained.
To make room for the increase, 287 double rooms in Good Counsel, Caughlin, McGuire, Katharine and Moriarty Halls are now triples. "I started this year with no male vacancies," said Marie Schauder, Associate Director for Housing and Residence Hall Operations. "Every nook and cranny was full." Approximately 50 more rooms have been transformed into forced triples than previous years. Fortunately, these rooming arrangements have not noticeably augmented the duties of Resident Assistants.
"They're working with more students," Schauder said. "With tripling you need to work harder to help students communicate. But the staff does a really great job."  Other facets of campus life have not noticed any drastic changes. 
"There was no noticeable impact on the financial aid process this year," said Bonnie Lee Behm, Director of Financial Assistance, who reported that enrollment size did not impact financial aid packages.
Several freshmen dining in the Spit on Monday evening reported that they were informed several times throughout orientation of their class's unique size. "They told us, and they keep telling us," said "Ace," a resident of Katharine Hall from Bucks County, Pa. "I love that we're a big grade, it's a chance for more friends." Emma of Villanova, Pa., one of Ace's two roommates, shared her enthusiasm. "We don't know anything else," she shrugged. "Everyone's new, so you just say 'hi' to everyone." 
Trevor, a resident of Stanford Hall echoed these sentiments from across the table, adding, "Triple the friends, triple the fun!"
As for housing prospects in the coming years, Schauder remains optimistic. "We're just going to have to figure it out," she said. "Every year I have a new puzzle to play with. It says a lot about Villanova and what we try to do here."