Former Wildcat Hilliard prepares for rookie year in NBA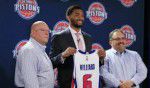 With Hoops Mania just around the corner, Villanova's campus is preparing itself for the excitement that comes with the start of the college basketball season.
Meanwhile, a former Wildcat star is bottling up his excitement as he gears up for the upcoming NBA season. 
Darrun Hilliard chased after his dream of playing professional basketball, caught it and is now living it.
"I'm just enjoying the journey," Hilliard said. "It's a long process, I'm just excited to be here. I'm living the dream."
Hilliard was drafted in the second round, 38th overall in the 2015 NBA Draft.
During his four years at Villanova, he tallied 1,511 points and shot 43.6 percent overall on the floor. He helped the Wildcats win the Big East regular season and tournament titles. 
"We saw a kid that came in as a widely unheralded prospect, that had a good skill set but had worked his way to becoming the best player in the conference and the best player on a 1-seed team in the tourney," said Detroit Pistons Assistant GM Brian Wright. "We liked that he was a self-made player. He did it by working, not by reputation."
Hilliard took the same work ethic into the NBA Orlando Summer League, where he solidified his spot in the Pistons' organization. He was usually one of the first players to go in and shoot around and one of the last to leave practice. It translated over to his game, as he steadily improved his play with each game.
Through five games, he averaged 9.4 points per game and 2.6 rebounds per game.
"He's doing well," Wright said. "He's playing hard, he's competing. Like most rookies, he's trying to figure it all out." 
Despite his new lifestyle, Hilliard hasn't been too star-struck. One year ago, he was watching his current teammates on TV. Now, he's playing alongside them and competing against the people he's been gazing at for years.
"It's not overwhelming," Hilliard said. "It's like my freshman year all over again. I was a nobody trying to climb the ranks, and it's the same here."
No transition into something new would be complete without growing pains. It hasn't always been easygoing for the rookie. 
Last month, while participating in a drill, Hilliard caught an elbow to his face. Shortly after, he had to get surgery in order to fix a broken nose. He had to wear a facemask for three weeks. While he did not miss any time, it was a learning moment.
He has also learned how to deal with being away from home. Most of his life has been spent in the state of Pennsylvania. 
"It's a little weird," Hilliard said. "It's not a huge city like Philly, but it's more like my hometown. It's got its differences, but it's pretty much the same." 
His cousin is up in Michigan with him, and it helps having Philadelphia native Marcus Morris as a teammate to help ease that transition of being somewhere new. 
After all, he is going to be around his teammates the most, and it would certainly help to get to know them.
Hilliard has also been to California to visit Pistons' center Andre Drummond for workouts. He was also out west the whole team's trip to Las Vegas.
Aside from the trips and getaways, he relishes in the fact that he can solely focus on basketball. 
"You're in the NBA and that's your only job," Hilliard said. "You're not obligated to do anything else but play basketball."
Outside of the gym or the arena, there are many things that Hilliard needs to get used to. His life has changed drastically over the last year, but what happens on the basketball court remains the same.
According to Hilliard, it's very much the same.
"One day I want to ask Coach Wright, 'Did you plan for me to come to Detroit?'" he said, laughing. "It's not that different at all, everything we did as a team basketball-wise is the same here."
He would even go so far to say that Jay Wright and Detroit Pistons' head coach Stan Van Gundy are quite similar. Well, once you take away the thousand dollar suits, of course.
"They've prepared me as much as anyone could have," said Hilliard of Wright and his coaching staff. "If I could thank him every single day I would do that."
Hilliard has been rather quiet in the NBA preseason, logging a total of four points in seven minutes of play. 
It doesn't faze him or take away from his experiences so far. According to Assistant GM Brian Wright, there's a lot to look forward to about Hilliard.
"He can be as good as he wants to be," he said. "Everybody gets a chance to prove themselves, and it's how you handle that. I told him to be ready, and he knows that."
For when that time comes…