A Small Town Girl Living in a Lively World: Sophie Pizzi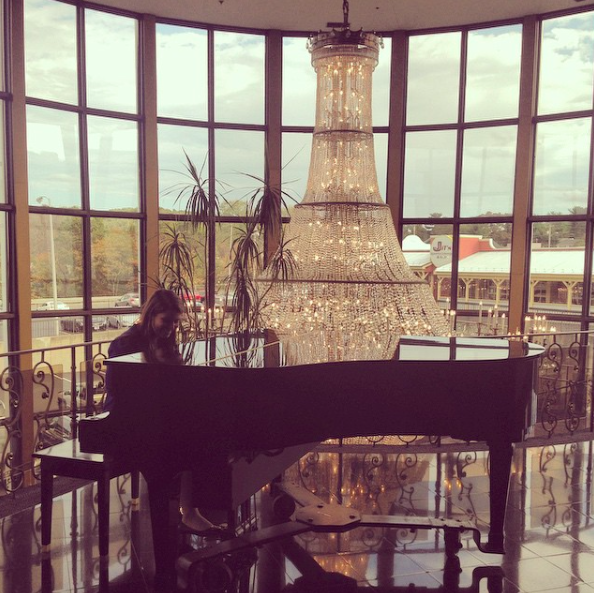 You probably don't remember much about reading Shakespeare in high school, but I'm sure you've at least read the Sparknotes version of "Romeo and Juliet." And if you did, you might recall a young Juliet famously asking, "What's in a name?" leaving you and her both stumped. Well, 400 years later, one Villanova student might have something to say about that.
 "My name is Sophie, not Sophia," says 21-year-old Villanovan Sophie Pizzi. "I was born a 'Sophia,' but I promise you that I'm not one. I'm not that formal."
In fact, as a junior communication major with a concentration in journalism, Pizzi actually has quite a lot to say–whether she is working as the current Features Co-Editor of The Villanovan or writing her own original music and lyrics. She has become a regular at on-campus open mic nights and has become known to some students around campus as "The Piano Girl."
Pizzi's musical journey all began almost a decade ago when she took up the piano. Although it took years of classical training from a Berklee College of Music graduate to develop her talent, the aspiring pianist has her great grandmother to thank for her own inspiration to keep playing.
"At every family function, my great grandmother was the life of the party," says Pizzi. "We would all gather around her and listen to her play piano for hours and sing along when we could. Those are my best memories. I begged and begged my parents for a piano after hearing her play."
But Pizzi's bond with her family reaches much deeper than that. The youngest of three girls, Pizzi is a bright spot in her eclectic group of family members. Her grandfather, who was born in Rome, and mother both speak fluent Italian and share Pizzi's adoration for Pope Francis. In fact, underneath the world maps and "Never Stop Exploring" sign that trace the walls of her west campus apartment sits a football-sized portrait of the pontiff's head on a Popsicle stick that she obtained as a souvenir of his visit to Philadelphia.
"I'm a low-key Nationer," says Pizzi while playfully blocking from sight the Villanova pendant that adorns her bedroom wall. "I really love giving back and even got to go on a service trip freshman year and travel a bit."
Sticking with the theme, Pizzi will be spending the spring semester abroad in Rome to revitalize her love for journalism, soak in the Italian culture and embrace her faith. 
It's not the first time she will be visiting Italy, though. As a child, Pizzi used to take trips every summer to her grandparent's villa—a small home in a small town on the Italian coastline that is not unlike her hometown.
Interestingly enough, Pizzi came to Villanova on a whim after accepting a late offer in the summer months just before her freshman orientation. Born in Massachusetts and raised in a small suburban town called Kingston, halfway between Boston and Cape Cod where cranberry bogs and colonial houses with short stone walls border the graying streets, Pizzi applied to Villanova without ever having set foot on campus.
"I love Villanova and can't imagine being anywhere else," Pizzi says. "But I'm sure that my love for my hometown will bring me back to New England after graduation."
Wherever Pizzi's feet land in a few years may be uncertain, but, rest assured, her personal brand of style will surely follow. Her bedroom, which looks like the setting for a trendy magazine photoshoot, is littered with geometric patterns, fluorescent pinks, purples and periwinkle blues, polka dots and stripes, a few dozen photographs of her and her friends cleverly surrounding a "Friends" TV poster; and a slew of handmade arts and crafts. Most notably among the latter is a handmade sign of magazine cutouts glued together in a Picasso-like fashion that reads "Be Loving, Love Being"—a phrase she coined herself and deems her personal "life motto." And inside of her boxy wooden desk sits a shrine to one of Pizzi's own heroes, Taylor Swift, complete with a hand-painted "1989" mug.
"I definitely try to emulate Taylor Swift's style," Pizzi says. "But I really don't want to be stigmatized as the 'T-Swift girl,' you know? I want to do my own thing and I feel like I'm stuck in some sort of an identity crisis as an artist."
To help lift this proverbial fog, Pizzi keeps a notebook of ideas, words, lyrics and experiences—aptly named "The Captivity of Fleeting Thoughts"—that she carries with her and writes in when inspiration strikes. She brings these scribbles along with her when she finally sits down at a piano and eventually builds chords and melodies around her lyrics until a new song is born.
"I think that's why almost all my songs are about my own life," she says. "It's hard for me to write about fiction. And for that matter, it's hard for me to write without being home with my own pianos."
Sure, a musician's obsession with his or her instrument is normal, but Pizzi takes things a step further by naming each and every one of her instruments. She has Walden, an upright piano named after Henry David Thoreau's classic transcendental memoir, of course; Junior, an electric keyboard given to her by her parents when she first started playing; and Clair, her great grandmother's old Wurlitzer piano named after Debussy's "Clair de Lune."
But piano isn't the only instrument she plays. She also recently began learning to play the guitar and the ukulele to further open up her songwriting capabilities and add some extra colors to her musical palette. In fact, it was only one year ago that Pizzi first picked up a uke, but she quickly grew fond of the tiny four-stringed instrument and began writing songs on it almost immediately. She has even begun playing it out in public at on-campus open mics.
"The uke is just so much different from the piano that it's like a breath of fresh air, really," Pizzi says. "It's so cute and peppy and makes me want to write about sunshine and rainbows."
And when Pizzi finally begins to play, those thoughts of sunshine and rainbows really do shine through her music, and the smile on her face inherits a distinct audible quality.
"She might only be five feet tall, but she really does stand out in a room," says fellow lyricist and musical co-writer Alex Aharonian. "It's something special to watch her play. She has this way of wrapping you up in her words—you just can't look away."
As she works through her familiar melodies, her feet and fingers bounce and jitter in rhythm on top of the black baby grand piano. Her voice is full and fruity and textured with a thick Boston accent that belies the elocution in her speaking voice. Her eyes remain closed behind her chic, black glasses throughout almost the entirety of her piece as she is drawn deeper and deeper into the music.
Her music is powerful yet palatable–every song littered with raw emotion and familiar chord structures that create a narrative of sorts from her lyrics. 
Homesickness in an unfamiliar territory guides her protagonist through perhaps Pizzi's own greatest fear of moving from city to city only to find herself in a lonely place where no one knows her name.
"I guess I rely on my words to tell a story and the music is just accompaniment," Pizzi says. "But at the end of the day, the reason I started taking lessons was to have something to look forward to every week–something that reminded me of home. And I guess that's really why I still play."