Democrats debate foreign policy in aftermath of Paris attacks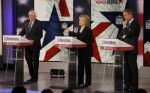 The second Democratic Presidential Debate on Nov. 14 featured the three remaining candidates: Vermont Senator Bernie Sanders, Former Secretary of State Hillary Clinton and former Maryland Governor Martin O'Malley. 
Hosted by CBS News, the forum took place at Drake University in Des Moines, Iowa. Moderators included John Dickinson, Nancy Cordes, Kathie Obradovich and Kevin Cooney.
Each candidate was allowed one minute for opening statements, specifically dedicated to the attacks in Paris. Opening questions dove right into foreign policy and national security. While all candidates vowed to take on the threat of terror aggressively, policy on how to do so varied.
When asked whether current administration had underestimated ISIS, Clinton stated, "ISIS is the leading threat in an international terrorist network. It cannot be contained. It must be defeated."
Clinton found herself under more direct attack from her opponents than in previous debate however. 
Just 10 minutes into the debate, Sanders referenced "the disastrous vote in Iraq," calling attention to Clinton's vote in favor of the invasion. 
When asked whether he was drawing a direct link between Clinton's vote on the Iraq invasion and the current rise of ISIS, Sanders answered, "I don't think any sensible person would disagree that the invasion of Iraq led to the massive level of instability we are seeing now."
Later debate questions addressed immigration, minimum wage, race relations, Wall Street, refugees, debt-free college and national security. 
Clinton's recent email fiasco also graced debate conversation, to which Sanders maintained his statement during the first debate; "I was sick and tired of Hillary Clinton's emails and am still sick and tired of Hillary Clinton's emails."
Sanders' defense of Clinton ended here, however; the Senator went on to attack Clinton's ties to Wall Street. Clinton was also the only candidate to advocate a $12 minimum wage, while O'Malley and Sanders agreed on $15. 
Candidates were similarly divided on the issue of gun control, with the Sanders and O'Malley taking a united stance against Clinton. 
CBS ran a live Twitter feed alongside the candidate forum, which displayed the reactions of viewers throughout the country using the hashtag "DemDebate." 
"Sanders comes out swinging at against Clinton," wrote viewer Jamie Weinstein during the opening arguments.
"Hillary Clinton wants to make one thing clear: She agrees with President Obama," wrote Chris Cillizza.
"Amazing how quick @HillaryClinton played the 'blame Bush' card. Now she only has phone a friend left," wrote viewer Sean Spencer.
Even former President Bill Clinton also weighed in with an assessment of his wife's foreign policy; "I agree with @HillaryClinton. This is everyone's fight."
The third and final Democratic Presidential debate will be hosted by ABC on Dec. 19 in Manchester, N.H.