Pumpkin spice takeover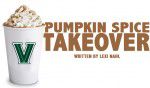 It's no secret that the pumpkin spice latte is among the trendiest drinks of the season, and the Starbucks version has reigned supreme since its 2003 creation. It is not uncommon this fall to see students walking through campus with the company's trademark cup in hand. However, Starbucks is no longer the only company offering the seasonal favorite, and as pumpkin spice worshippers nationwide begin to find new outlets to express their love, University students are taking notice. 
Starbucks introduced the Pumpkin Spice Latte after its other seasonal drinks like the White Peppermint Mocha and Eggnog Latte were met with slamming success. It is estimated that the company has sold up to 200 million Pumpkin Spice Lattes over the last 11 years, and has generated roughly $80 million in revenue from this drink alone. The popular latte now outperforms the winter seasonal drinks that preceded  its creation by a significant margin.
Sales increased a whopping 234 percent between the years of 2008 and 2012, prompting companies like McDonalds and Dunkin Donuts to brand their own seasonal pumpkin drinks. Despite fourth-quarter earnings which came back slightly less favorable than predicted, Starbucks continues to outperform its major competitors in the coffee market. 
This does not surprise students like Gabriella Santone '16 who remain loyal to the Starbucks classic. "Pumpkin Spice Lattes just taste like fall and aren't the same if you have them outside of Steptember to November," says Santone. "I like Starbucks the best because they're not too sweet like Dunkin Donuts' and they have a little bit of cinnamon flavor which I really enjoy." 
According to CNBC, sales of pumpkin-flavored items including the beloved PSL have risen 11.6 percent this year, but still, only eight percent of Americans are true PSL drinkers. According to a September study by  the NPD group, only 20 percent of PSL consumers purchased the latte twice, and only eight percent purchased three or more times. Certain behaviors and mentalities demonstrated by University students may help to explain this phenomenon.
When asked whether they were surprised that only eight percent of consumers purchase more than three lattes per season, a poll of University students reveals that 64 percent of students are unsurprised by this phenomenon. Many students prefer other brands for their higher nutritional value or cost effectiveness. 
Julianne Dinsmore '16 told The Villanovan, "The pumpkin macchiato from Dunkin isn't as sweet as Starbuck's Pumpkin Spice Latte, but it still has a lot of flavor without the added calories. It's not much cheaper than Starbucks, but it's better for you." 
According to Starbucks, a standard, grande Pumpkin Spice Latte packs about 380 calories, 14 grams of fat, and 50 grams of sugar. This number can be significantly reduced or increased depending upon the size, type of milk used, amount of whipped cream, etc. 
Milleanne Moschella '16 found a sweet alternative in Wawa's pumpkin coffee which she claims is "way cheaper than anything at Starbucks. Also, it's not as overwhelming of a pumpkin flavor—it's the perfect amount of sweet and spicy." 
 Though there are clearly numerous mainline businesses competing for the attention of University students throughout the season, many students do not look further than West Campus to get their pumpkin fix. 
Outside retailer Rosie's Mug is now selling its own version of the popular drink for the fourth year in a row, but owner Debbie Doyle assures that the Pumpkin Spice Latte is just one among an impressive line-up of fall drinks on the menu this season.
Doyle's best selling drinks for the fall include the Green Apple Pie Smoothie, Apple Cinder and the Pumpkin Spice Latte. However, the cafe features numerous pumpkin drinks including pumpkin brewed coffee, White Mocha Pumpkin Latte (a latte with white chocolate and pumpkin spice syrup), Pumpkin Chai Latte (chai tea with pumpkin spice syrup) and the Pumpkin Smoothie (a smoothie made with pumpkin, almond milk, banana, date, and cinnamon). 
Villanova students like Stephanie Car '17, choose Rosie's fall drinks over other local options. Car remarked, "I love Rosie's because of the variety it offers. I always stop in for lattes, but I also really enjoy their healthy snacks and smoothies!"
Conveniently positioned on the West Campus train tracks, Rosie's is not technically affiliated with the University. Still, the café has garnered increasing popularity among University students over the past four years. Doyle has enjoyed some notoriety on campus for her signature smoothies like the "Kale Almond," but she assures that the fun does not have to stop in the fall. Her Green Apple Pie Smoothie (made with apple, banana, cinnamon, almond milk and dates) has been a top seller, and her pumpkin smoothie is new this season. 
Drinks like these at Rosie's Mug present a nutritious local option for students, and Doyle notes with pride, "I use all natural ingredients in my smoothies." University student and Rosie's Mug employee, Megan Rogers '17 explained why she thinks the Pumpkin Smoothie is the best pumpkin drink on the mainline this fall. "Our pumpkin smoothie is certainly healthier than any traditional Pumpkin Spice Latte. Our smoothie has real pumpkin, dates, banana and almond milk. It offers a lot more nutrition than a pumpkin spice latte and definitely keeps me fuller longer," Rogers remarked.  
Doyle explained that her independence is what keeps her fall drinks and other menu items so fresh and innovative. "I'm not associated with the University at all so I can always experiment and come up with different menu items. We come up with new and different drinks every, single season." Clearly, fall has been no exception for Doyle, whose fall menu demonstrates impressive creativity and a wide variety of traditional fall favorites. Inevitably, pumpkin spice will remain key among them.