Hoverboards banned in Residence Halls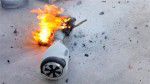 Students returned from winter break to find the year's hottest holiday gift banned from residence halls. A few days before the spring semester, the Office of Residence Life sent out an email banning hover boards from all residence halls, citing fire safety concerns. The self-balancing scooters have been reportedly catching fire, burning down a Louisiana home and exploding mid-use in a Washington mall. 
Although some news sources claim the danger lies in the boards overheating while charging, more accidents have been reported while being ridden. Several online technology forums and journals, such as Wire, have revealed the main reason why the board keeps catching fire. The product uses low-cost lithium-ion batteries, similar to the ones used in smartphones, laptop, and cars. Since the boards are of a different nature than a smartphone- prone to be used at high speeds and smash into things the battery damages much more easily. Similar explosive problems have been reported by car companies such as Tesla. As a result, the company has made changes to incorporate cooling systems to keep the temperature safe. 
Associate Director for Housing and Residence Hall Operations, Marie Schauder, spoke with The Villanovan about the decision to ban the boards from residence halls. While no incident in particular sparked the decision, "We started to get telephone calls from parents concerned with fire safety in the dorms. There have been no complaints about the ban through emails or telephone calls- there were only calls urging us to ban them in the first place," Schauder said. 
Schauder compared the use of these boards to other similar fire hazard items, such as halogen lamps, toaster ovens and candles. Hoverboards will be added to the list of items that Residence Assistants will check for in students' rooms during spring break resulting in penalties for owners if the boards or their chargers are found in their rooms. The decision has thus far been met with minimal opinion from the student body.
Other universities have taken similar precautions for fire safety. Schauder pointed out that many other universities have not yet resumed classes, so more stories regarding hoverboard bans, will be seen in the coming weeks.
Major United States airlines have investigated the product along with the US Consumer Product Safety Commission and decided to also prohibit these boards from being taken on board an aircraft. "While occurences are uncommon, these batteries can spontaneously overheat and pose a fire hazard risk," Delta told ABC.
According to Fortune Magazine, a disgruntled consumer in New York has filed a civil suit against hover board manufacturer Swagway and sports retailer Modell's. Both companies declined to comment to Fortune, but took to the internet to defend their product. "We can't speak for other brands, but for Swagway, as safety is a top priority, we take the extra measure to use parts like UL listed adapters and top quality Samsung or LG lithium-ion batteries," Fortune quoted. 
The decision by Residence Life is unlikely to be reversed, given the continued media coverage of hoverboard mishaps. Students who continue to harbor their contraband hoverboards on campus declined to comment.
Photo courtesy of NBC